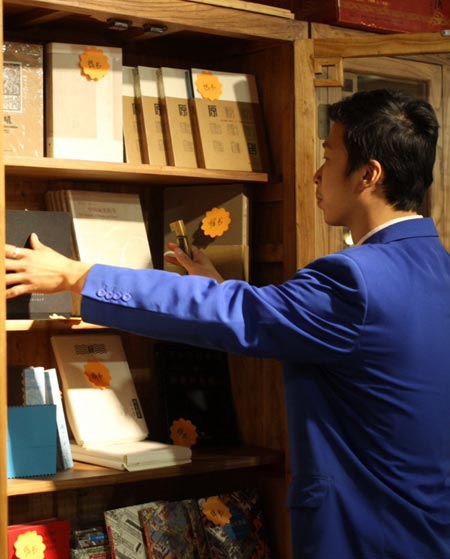 The winners of The Beauty of Books in China awards are showcased in a special section at the Shanghai Book Mall on Huaihai Road. [Gao Erqiang/China Daily]
At the recent celebration of the beauty of book designs in China, Professor Yi Zhongtian suggested a prize should be given to "the dumbest design".
"It takes lots of time and cost to come up with it and yet neither readers nor anyone else likes it," Yi explained about the bad designs. Too often nowadays, books are "over-designed", making them heavy and difficult to read, said the Xiamen University professor and author of a series of best-selling books on Chinese history.
The best book design should be invisible, "achieving maximum effect with minimum cost", Yi said in a speech at the international forum on The Beauty of Books in China in Shanghai Library on Nov 15.
As part of the Best Book Design from All Over the World competition organized annually by the Stiftung Buchkunst (German Book Art Foundation), The Beauty of Books in China campaign has been running in Shanghai every year since 2003.
The forum was part of the grand celebration of the 10th anniversary of the campaign in China. At the same time, Shanghai International Book Designing Art Exhibition, the largest show on book designing in China since 1949, was launched at Shanghai Library. It closed on Nov 20.
"In the age of Internet, the designing of paper books plays a more important role in keeping readers interested and the publishing industry thriving," says Xu Jiong, director of Shanghai press and publication bureau, organizer of forum.
"China publishes more than 200,000 new books every year. Our best designers are on par with those on the global stage. But a large number of average books in the market are of lower design quality, quite far from those in other parts of the world," Xu says.
The annual promotion of book designing has produced significant influence and impact in China's publishing and designing sectors, helping to improve the overall designing quality, he says.
A veteran book designer, Renate Stefan has worked as a jury member for The Beauty of Books in China no less than seven times. Judging books in a strange language has turned out easier than the German designer first expected.
"You can feel a book by touching and smelling it," she says. A good design "flows into you quietly, rather than jumps into your face - you don't notice the design".
E-books are taking much of the market share of paper books, and she is not only aware of it, but also prepared to design e-books. Graphic design rules will still be applicable in e-books, she explains.
China's book designs are not inferior to those in Western countries, she says.
In fact, 11 books selected from the annual competition in China won Best Book Design awards in Leipzig, Germany - much more frequently than the Germans themselves, she says.
This year, 21 books have been selected as winners of The Beauty of Books in China awards, and will participate in the international competition in Germany next year.
These books are showcased in a special section at the Shanghai Book Mall on Huaihai Road in Shanghai until Dec 31.