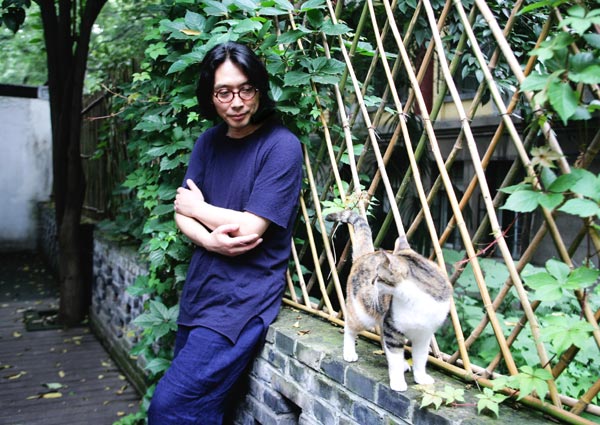 Designer Zhu Yingchun's studio in Nanjing is surrounded by green plants and the theme of his creations is always connected with nature. Qian Chao / For China Daily
A high-flying book designer says his art fits a small market that will develop slowly, like his own work. Han Bingbin reports.
Book cover design has perhaps been an undervalued genre of art till recent years, but Zhu Yingchun forcefully brings it to light in China with his stunning creations. While his success might seem to illuminate a path of hope for young designers, Zhu is quick to quell their enthusiasm.
"The design industry is tough. If you have a choice, don't come into it. If you're already in it, design anything but books," he emphasizes in his campus talks.
Zhu says the design fee for books is only one-tenth of what's paid for advertisements and commodity packages - not to mention the much more expensive environment and architecture designs. But designing a complete book, including the covers, and choosing paper and printing technologies, requires an equal investment of time and energy.
China's low book prices make publishers hesitate to invest heavily into the designs, he says. A fast-shrinking paper book market is also to blame. For now, though, Zhu sees the market shrinkage more as an opportunity than a challenge.
"In the future, paper books can win over e-books only in their artistic quality, the pleasant feeling that comes with an aesthetical pursuit," he says. "It's like in the 1980s when television became popular, cinemas were dying out. But now movies have regained popularity by providing an ever-improving quality that TV series can't possibly achieve."
Idealism is what has helped him continue all these years. Still the designer insists it's not something practically good to start with.
After graduating from Nanjing Normal University's department of traditional Chinese painting, Zhu soon found it impractical to sustain himself as a painter. He spent more than a decade in NNU's publishing house designing tutorial books, purely commercial and unfulfilling work that he clearly differentiates from the book designs he does now.
"But I thank those years for helping me live well and letting me know the true feeling of being bored. When I'm out, I am surprised at how much energy I've accumulated," he says.
"That's why I advise young people to find a profitable job first. Live well, but bear the dream in mind. Then wait for a right time to ignite it."
In 2004, Zhu founded his own studio. Without formal training in book design, he is free of cliches that often come from following so-called design traditions or market rules.
His most striking design work may be on Stitching Up, a collection of reflective essays, which graces a young writer's wisdom yet to be found in her maiden effort on argumentative writing.
The Chinese translation of the book title is a pun on both "unworthy talent" and "unpolished material". Zhu thus symbolically left the pages without trimming the edges, so that each pair of pages are still joined together and wait to be cut apart with a bookmark inlaid in the endpaper.
The book won an award of The Beauty of Books in China in 2006, among his 11 other designs that have been honored in the competition since Shanghai press and publication bureau initiated the honorary selection in 2003. The latest was just last week, when a book entirely his own, Kong Du, won the award of The Beauty of Books in China of 2013.