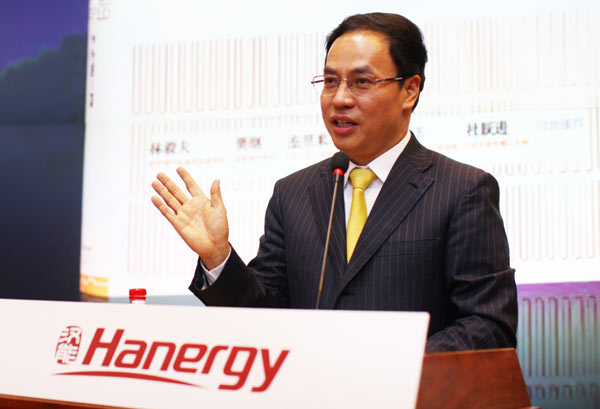 Photo provided to chinadaily.com.cn
The book New Energy Revolution: The Power to Change China and the World, by Li Hejun, board chairman of the Chinese renewable energy company Hanergy Holding Group, has been released in Beijing on November 20, 2013.
In the new book, Li offers his suggestions on China's sustainable development and peaceful rise through solving energy shortage problems by developing a photovoltaic industry. The book predicts the trend of a global new energy revolution and concludes with the experience from developed countries such as the US, Japan and South Korea. After analyzing the twisting and turning development history of the photovoltaic industry in China, Li explains strategy, tactics, policies and measures that China should take into consideration.
"Environmental protection and energy shortages are main problems that humans face now, which restrict the development of economy and society. The 3rd industrial revolution – a great change happening from a combination of the Internet and new energy – will come one day. The core of the revolution is new energy revolution, and the core of an energy revolution is a photovoltaic revolution. The trend of a photovoltaic industry is thinning along with a flexibility of materials," Li Hejun said at the press conference for his book launch.
Li mentions in his book that China has advantages in strategy, technique, market, capital, talent, industry, cost, system, policy and opportunity. And China has a large potential market through the pressures of energy shortages and environmental protection. Therefore, developing a new energy industry, especially a photovoltaic industry, is a great opportunity for China.
Li Hejun is also vice chairman of the All-China Federation of Industry & Commerce and a member of the National Committee of CPPCC. As a renewable energy entrepreneur, he is an initiator of the global new energy replacement event. He founded Hanergy Holding Group in 1994 and the group has since become a world leading thin-film solar power business. Li ranks 4th on the 2013 Forbes China list with an estimated wealth of 66.5 billion yuan.