Romance afoot as designer's shoes reflect Chinese opera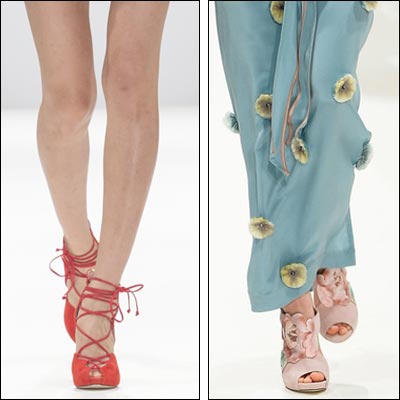 Butterfly and Blossoms, a collection by the Chinese label Sheme. Photos provided to China Daily
In the 17th century, Chinese playwright Tang Xianzu, often called the "Oriental Shakespeare", wrote the romantic love story The Peony Pavilion.
Now a Chinese designer has taken inspiration from the classic Chinese story and created Butterfly and Blossoms, a designer shoe collection which debuted at London Fashion Week in September.
"We prepared for 15 years for that debut," says Liu Qiongying, founder of Sheme, a custom-made women's shoe label from Chengdu, capital of Sichuan province.
It was the first time a Chinese footwear brand showed its wares at the London show.
"It is an important step for the Chinese footwear industry," says Liu, struggling to hide the excitement in her voice.
"As a woman who makes shoes, I dreamed that one day I would come here and use the artistic charm and designs of Sheme, which fuses Eastern and Western fashion elements, to impress London fashion society, make friends, do business and establish our brand here."
Liu and her team use the flying butterfly as their motif, highlighting the romantic feel of dancing butterflies. Inspired by peony petals, they mimic the simple shape of petals in the heel design of some shoes.
On the "deep courtyard" shoes, more than 100 Swarovski crystals are embedded into the upper part of the butterfly-shaped footwear. The silk fabric is soft and moisture-absorbent and exudes a delicate femininity.