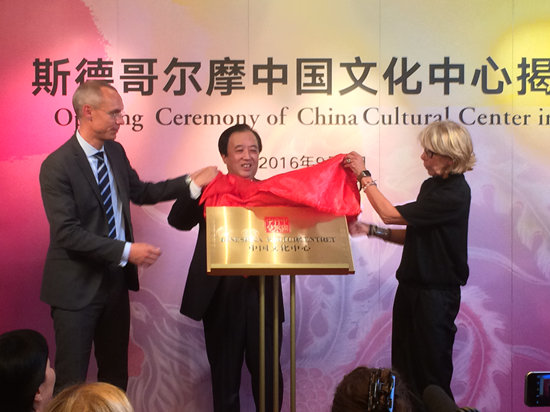 Chinese ambassador to Sweden Chen Yuming (center) unveils the nameplate of Stockholm China Cultural Center. [Photo provided to Chinaculture.org]
The Stockholm China Cultural Center unveiled its nameplate to the public in Stockholm's city center on September 1, creating a new chapter for China-Sweden cultural exchanges. Chinese ambassador to Sweden Chen Yuming attended the opening ceremony.
Chen Yuming made a speech at the event, stressing that the China Cultural Center would bring Chinese culture, language and art to Sweden, boosting the exchanges and strengthening bilateral ties. The center will provide opportunities for Swedish people to better understand China and will become the witness to the further development of China-Sweden relations.
A performance of the traditional Chinese musical instrument called Gu Zheng ( a 21-or 25-stringed plucked instrument in some ways similar to the zither) was given at the opening, receiving applause among audiences and guests. Meanwhile, an oil painting exhibition featuring Chinese imagery and a photo exhibition are on display at the center to mark the 66 anniversary of China-Sweden diplomatic ties.
The center will be open to the public six days a week and a variety of cultural events, such as lectures, forums, exhibitions and performances, will be held.