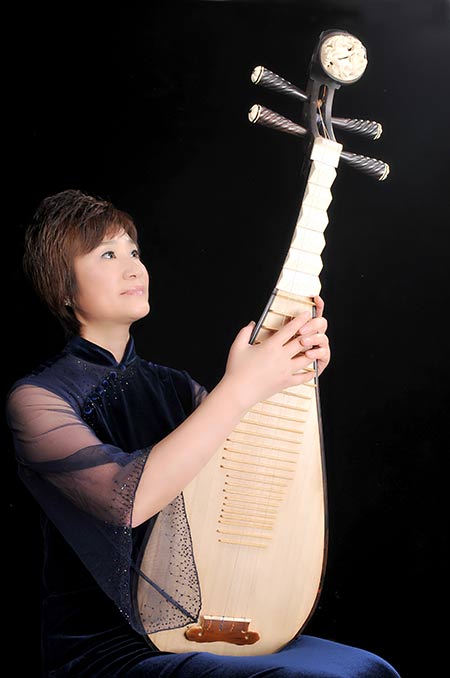 Wu Yuxia has played thepipa for about 50 years. Photos provided to China Daily
Chinese pipa player Wu Yuxia never says "no" to educational performances and projects since she believes that spreading the word about the four-stringed lute, a Chinese musical instrument with more than 2,000 years of history, is her life's work.
"Whenever I get the chance to do a concert for a young audience or invite students for a collaboration, I go for it," says Wu.
The Shanghai-born, Beijing-based pipa master has been playing the traditional instrument for nearly 50 years.
After a music summer camp in Wuhan, capital of Central China's Hubei province, where she conducted a 108-student band playing the pipa, Wu, 59, is to perform at the Forbidden City Concert Hall in Beijing on Sunday.
The concert is part of Gateway to Music, an annual event started by the government 20 years ago to attract audiences with a variety of performances, ranging from classical to traditional Chinese folk music, and with low ticket prices.
Wu will collaborate with 17 performers, aged between 6 and 10, to play classical pipa pieces, including Wild Dance of the Golden Snake, a folk rearranged by composer Nie Er (1912-35). Besides group performances, Wu will do solo interpretations of classic pipa works, including Ambush from Ten Sides.
"I do whatever I can to make the pipa be seen and let the audience get to know the instrument," says Wu.
"One of the most important things that happens when I conduct these educational programs is that people get exposed to Chinese music and culture.
"Personally, I also harvest from these performances. Though I am nearly 60, I still get excited once I stand by the curtain."
Two of Wu's students, Zhang Ruige and Fan Juantong, will perform with her.