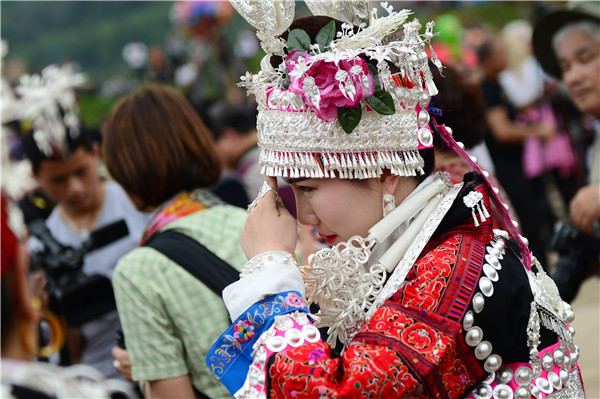 A Miao ethnic woman attends the recent Zimei Jie (Sisters' Day), a five-day festival similar to Valentine's Day, in Taijiang county, Guizhou province.CHINA DAILY
"Zimei Jie" (Sisters' Day), a five-day festival similar to Valentine's Day, is helping boost tourism in an ethnic county in Southwest China.
Chinese of Miao ethnicity in Guizhou's Taijiang county, in which 97 percent of the 168,000 residents are Miao, concluded the annual event on April 19-23, with tens of thousands of locals donning traditional attire in parades, musicians playing the reed-pipe lusheng, and performancers presenting drum dances. Group weddings and bullfights were also held, according to the county government.
According to folklore, a Miao couple were not given permission to be together by their parents and tribe leaders. They continued their romance regardless and when they met in secret, the girl would give her lover a bowl of glutinous rice, known as Sister's Rice.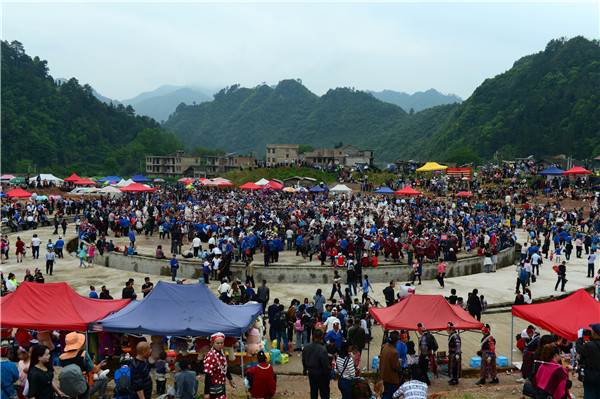 Miao ethnic people of all ages dress in festive costumes and wearing silver, gather at the Zimei Jie (Sisters' Day) festivities.CHINA DAILY
The two overcame adversity and became an official couple. Sisters' Day is celebrated annually in honor of their love.
The occasion, which reportedly reflects the ancient lives of the Miao people during the transition to patriarchy from matriarchy, drew more than 50,000 tourists this year.
"The stories are so romantic," said Xia Xiaohui, a painter from east China's Zhejiang province. "The distinctive Miao culture is really inspirational."
For tour guide Li Mei, Sisters' Day gives tourists the opportunity to "have a glimpse of Miao culture."
"In recent years, many foreign visitors have come to Taijiang to admire the culture," she said.
Daniel, an Italian tourist, said he came to Taijiang to enjoy the "colorful glutinous rice."
"I was curious about Miao folklore," he said. "This is the first time that I have seen Miao people, I just adore their culture."
The event was also great for local businesses.
Wu Dongxiong, who operates a silverware store on Sisters' Street in the county, said tourists swarmed his store to buy souvenirs.
"I have sold a pretty good amount of silverware this year," said the silversmith. "Because tourism has exploded in recent years, all of my 12 siblings now work in the souvenir business."
The local government named Wu an "inheritor of intangible cultural heritage" to encourage him to pass on the craftsmanship to the next generation and to attract more young people to the industry.
"I have accepted six apprentices recently," he said.
Liu Yongying, another local, chose to cash in on another unique product-Miao embroidery. Liu said she usually collects handmade embroidery from local women and sells it during Sisters' Day. This year her embroidery was snapped up very quickly.
"Tourists love Miao embroidery, which usually features goats, dogs, snowflakes and swallows," Liu said.
Sisters' Day was named a national intangible cultural heritage in 2006.
In the first three months of 2016 alone, Qiandongnan Prefecture, which administers Taijiang, has welcomed more than 14 million tourists, a year-on-year increase of 57.6 percent, according to official statistics. Tourism revenue rose 62.6 percent to 12.4 billion yuan ($1.9 billion).
To take Taijiang's tourism to the next level, the local government decided to bring in more investment, with 13 projects worth almost 1.2 billion yuan already inked at this year's event.
The projects will help develop tourism, agriculture and health recovery industry, according to the government.
"We plan to invest more in our ethnic culture, such as Miao silverware and embroidery," said county mayor Du Xianwei. "We will also develop 'mountain tourism,' featuring mountain lakes and parks."
Li Feiyue, Qiandongnan's Party chief, said events like Sisters' Day are not just about boosting economic growth.
"I hope similar festivals will pass on the Miao culture and traditions," Li said.