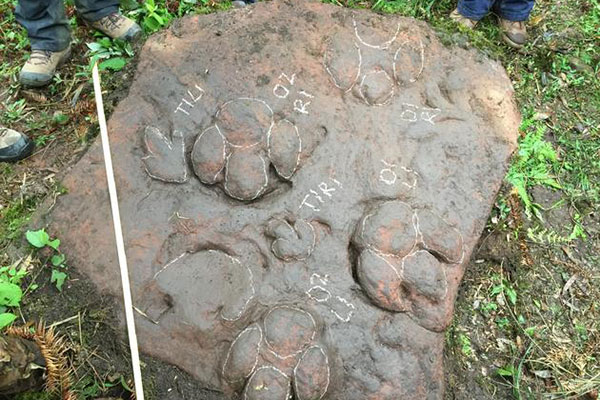 The Liu Cixin Caririchnium. [File photo]
A new kind of bird-footed dinosaur footprint was discovered in Gulin county, Southwest China's Sichuan province and named for Chinese science-fiction writer Liu Cixin, to honor his contribution to raising public interest in science.
Liu, who was thrilled to hear the news, said that he has great interest in paleontology.
"It is like a science fiction we're reading that the dinosaur in Gulin county was preserved so well for billions of years. It helps us travel back in time. I hope the relics could be studied and preserved well."
The decision was made by the research team consisting of China University of Geosciences, University of Colorado, Natural History Museum of Basel and some other museums that feature dinosaur exhibitions.
Xing Lida, a young scholar leading the paleobiospecies study in China University of Geosciences, said the foot print reliquiae is very special, and looks like the footprints of a small cat or dog.
"They are about 30 centimeters long, consisting of three toes and a chubby sole. The footprints are very similar to those of the Caririchnium, but also differ from it as they are anatosaurus. So we decided to name it as a new species."
The Caririchnium was first discovered in Brazil, named after the basin of the same name. It is a kind of hadrosaur dinosaur.
Liu Cixin is a Chinese science fiction writer and a Hugo Award winner, who is known for his series of novels The Three-Body Trilogy.