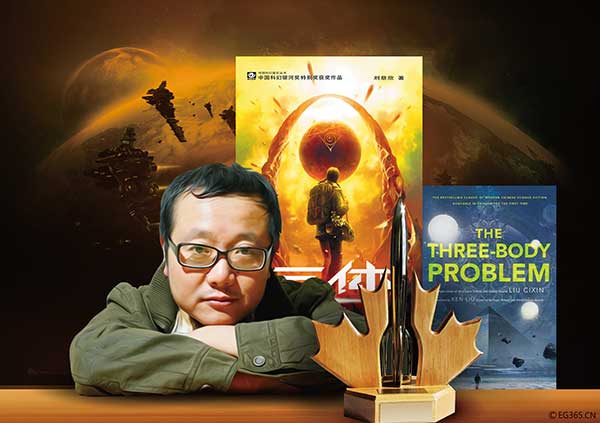 Chinese writer Liu Cixin is the first Asian author to win the Hugo Award.[Photo provided to China Daily]
Hugo winner Liu Cixin predicts the market for sci-fi books in China will grow in time. Mei Jia reports.
Surrounded by fans at a World Book Day event in Beijing last Saturday, Chinese sci-fi writer Liu Cixin attributed the success of his Three Body trilogy to chance.
The English edition of the first book of the trilogy - The Three-Body Problem - translated by Chinese-American sci-fi writer Ken Liu (unrelated to the author) in 2014, sold more than 100,000 copies worldwide, according to Liu Cixin.
Last year, that book also won Liu a Hugo Award, which is an annual global honor given to sci-fi and fantasy works.
But even so, Liu, 53, says sci-fi as a genre isn't mainstream in China.
"Readers of sci-fi novels in the country are still in a minority. That hasn't changed despite my winning. I'm talking about facts here, not showing my modesty."
While The Three-Body Problem has sold way more copies than other translated Chinese novels in the recent past, the numbers of new sci-fi books printed in China each year are on an average less than 10 percent of those in the United States.
That's also a reason why noir films such as 2001: A Space Odyssey, The Matrix, Gravity or Interstellar are made in Hollywood.
The sales of his novels outside the trilogy and books by his Chinese peers haven't risen either, says Liu.
Even his wife and daughter are not readers of his works, he jokes.