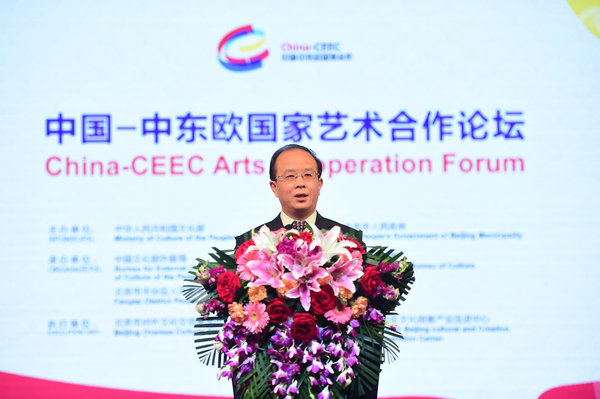 China's Vice-Minister of Culture Ding Wei gives a speech at the 2016 "China-CEEC Arts Cooperation Forum" in Beijing Garden Expo, May 9, 2016. [Photo/Chinaculture.org]
The 2016 "China-CEEC Arts Cooperation Forum" had its grand opening in Beijing Garden Expo in Beijing on Monday. The forum will last until May 13. Some 300 prominent artists and institution from China and 16 Central and Eastern European Countries (CEECs), and diplomatic envoys of some CEECs to China were present at the event.
As the largest arts festival ever hosted jointly by China and CEECs, the event aims to convey the spirit of the Suzhou Guidelines for Cooperation between China and Central and Eastern European Countries and Sofia Declaration on Cultural Cooperation of China and Central and Eastern European Countries 2016-2017.
The forum is a key event of 2016, the year of people-to-people and cultural exchanges between China and 16 Central and Eastern European countries (CEECs).
Those who addressed the opening ceremony included Ding Wei, China's Vice-Minister of Culture; Wang Ning, Vice-Mayor of Beijing Municipal People's Government; Ji Yan, Head of Fengtai District in Beijing; Huo Yuzhen, Special Representative of China-CEEC Cooperation Affairs; Iva Hraste Soco, Assistant Minister of Culture of Croatia; Dace Vilsone, Deputy State Secretary for Cultural Policy of Latvia's Ministry of Culture; Ye Xiaogang, Chairman of the Chinese Musicians' Association; Constantin Chiriac, Director of the Sibiu International Theatre Festival in Romania; Guo Lei, President of Beijing Dance Academy; Jerzy Moszkowicz, Director of the Children's Art Centre in Poznan, Poland; and Wu Weishan, Director of the National Art Museum of China.
"The key to sound relations between states lies in the affinity between their people, which largely stem from mutual understanding. Cultural exchange can promote mutual understanding and friendship between countries and their people, and consolidate public support for cooperation in other fields," Ding said.
He expected that domestic and foreign guests could carry forward the spirit of "peace, openness, inclusiveness and sharing" of the Silk Road, speak their mind freely, conduct in-depth discussions, spark new ideas and jointly draw the blueprint for future exchange and cooperation.
Wang added that Beijing is home to a diverse collection of cultural and artistic resources, with many excellent artists, scholars and marketing personnel in fields such as music, dance, theatre, fine arts and performance for children. They share the same vision with artists from CEECs: practicing the inheritance and integration of arts, vitalizing the creation and interpretation of arts, and transmitting our civilizations on the world stage.