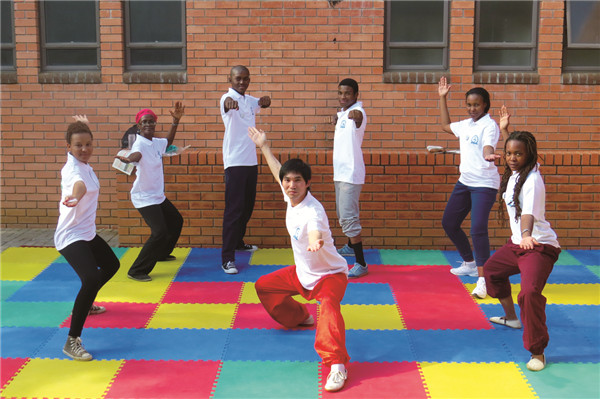 Wang Xudong (middle) says that his African counterparts in Botswana have been very interested in learning Chinese martial arts. Provided to China Daily
It is no longer surprising to see a Chinese man in Africa, seeing as how relations between the two parties have progressed significantly in recent times.
Trade between China and Africa has increased by more than 22 times in the past 15 years and just last year, Chinese President Xi Jinping announced that the country would be providing $60 billion in loans to help the African continent overcome its challenges in infrastructure, talent and funding.
Wang Xudong is one such Chinese in Africa. But unlike his many other compatriots there who are from the oil and construction industries, the 26-year-old is a volunteer at the Confucius Institute at the University of Botswana, founded in 2009 under a memorandum of agreement between Shanghai Normal University and the University of Botswana.
But though Wang may not be able to speak the local language of Setswana, he communicates with his African counterparts in English and, more notably, the language of Chinese martial arts.
The particular school of Chinese martial arts that Wang teaches his African peers at the institute is Chen-style taichi. There are various forms of taichi and the most discernable different between Chen-style and the rest is the tempo — the latter are said to be more fluid in nature while the former emphasizes on sudden bursts of power.
Born in Wen county in Henan province, said to be where Chen-style taichi originated from, picking up the martial art was a natural thing for Wang.
"Everyone around me practiced taichi daily as a form of exercise. I started learning from my brother when I was just six-years-old but I later found myself increasingly interested in this martial art," said Wang, who now holds a second grade in taichi.
He conducts at least three martial arts lessons daily and said that this experience has provided him with valuable insights into the local African culture and just how passionate his students are about China's culture and martial arts.
Besides martial arts, which some of his students know as kungfu, Wang also teaches the locals competitive long-style boxing and Chinese traditions such as the Spring Festival, the Mid-Autumn Festival and the Dragon Boat Festival. He also organizes various classes to teach Chinese cooking, musical instruments, dance moves and poem reading.
"I am playing the role of a 'bridge-builder' for China and Africa, and martial arts is just one of the ways that Africans can learn more about Chinese culture," said Wang.
"It is in this way that they are able to explore the essence of traditional Chinese culture because many of these styles are related to Buddhism, Taoism and traditional Chinese medical science."
Currently a postgraduate student from Shanghai Normal University who is majoring in martial arts, Wang's decision to volunteer in Botswana was influenced by his desire to conduct more in-depth research for his thesis — it is centered on the ability of martial arts to communicate to people around the world — as well as broaden his horizons.
Now into the final stretch of his three-year stint at the institute, he will return to Shanghai in about three months to continue his studies on the theoretical aspects of Chinese martial arts. Wang conceded that he had not intended to be a volunteer for three years, but it was the charm of the locals and his desire to share the teachings of taichi that made him decide on an extended stay.
The idyllic pace of life in Botswana was another reason why Wang decided to extend his volunteering stint.
"Life is slower here and that has allowed me to truly explore and discover what I really want to do in the future," said Wang.
"For example, this experience has led me to decide that I will teach martial arts after I graduate as it is a great way of helping more people understand Chinese culture."