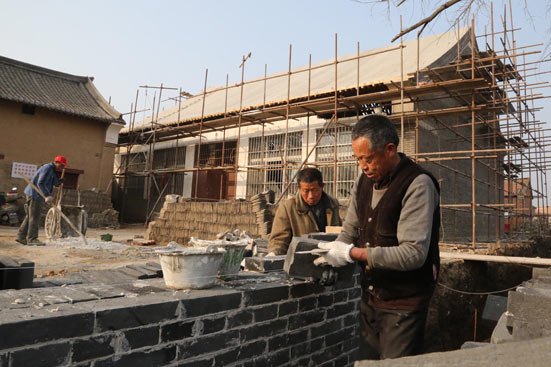 A construction crew renovates the ancient buildings in the Baofeng County in the Henan province. [Photo by Wang Shuangzheng/Asianewsphoto]
According to the Announcement on Further Strengthening Cultural Relics Protection released by China's State Council on March 4, a lifelong retroactive accountability mechanism for cultural relics has been put on the agenda.
"In cultural relics protection, it is important to implement the two 'responsibilities', namely, the responsibility on leadership and the responsibility on subject. Also, efforts must be made to take the relics protection work into account in performance evaluation among leaders and officials at the local level," said Zhu Xiaodong on March 30, director of the Policy and Regulation Department at the State Administration of Cultural Heritage.
Zhu said, "The Chinese government has invested a large amount of money on movable and unmovable cultural relics during the 12th Five-Year Plan period. The protection work, however, has faced threats both from natural disasters and human destruction."
The Announcement also points out that it is necessary to establish an accountability and evaluation mechanism for cultural relics. An annual check and evaluation for the cultural relics within a certain region is conducive to solving some difficulties.
An imbalance in the distribution of cultural relics is a common phenomenon in China. Chinese ancient capital cities such as Luoyang, Anyang, Kaifeng and Xian abound in cultural resources. It is such a difficult task for the local government to shoulder the responsibility of protecting all the cultural or historical relics within the region as it leads to heavy financial burdens.
"In the future, the administration will set up a national registration system on cultural properties. We will draw up the framework, lay down regulations on management, build up a talent team and make professional institutes accessible to the system," Zhu added.