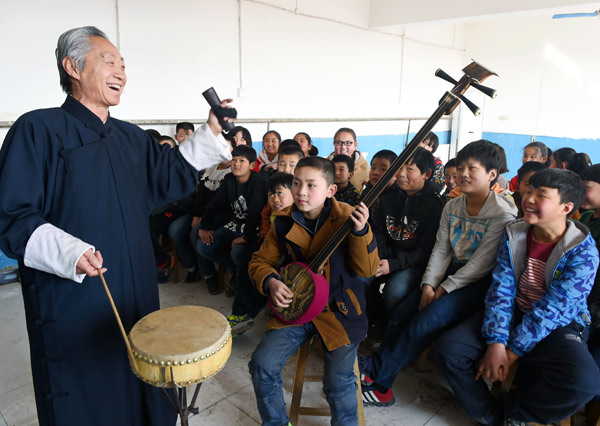 The inheritor of Cangzhou big plank drum Wang Yinjie performed for school students in Hebei province on March 17, 2016. [Photo/Xinhua]
At the Ministry's first quarter press briefing, inspector of the Department of Intangible Cultural Heritage, Ministry of Culture, Ma Shengde said, "From 2016, subsidies to 1,986 national inheritors of intangible cultural heritages will rise to 20,000 yuan ($3088). They will use the allowance on the cultural heritage promotion, rather than their living improvement."
Ma noted that the subsidies increase will encourage inheritors and help them to deal with the difficult problems efficiently in promoting cultural heritage activities. It can also lead the public to pay more attention to the safeguarding of inheritors and their skills.
The central government started to assist inheritors by giving subsidies of 8,000 yuan ($1,235) per year for each one in 2008. In 2011, the allowance rose to 10,000 yuan ($1,544).
According to Ma, the central and local governments enhanced the management of the special funding to preserve intangible cultural heritages.
In 2015, the Ministry directly transfers the subsidies to the personal accounts of the national inheritors who belong to the units directly under the central government.
"Some places, such as Hunan and Henan province have adopted this method. The provincial department of finance or culture will give the subsidies to the inheritors directly," said Ma.