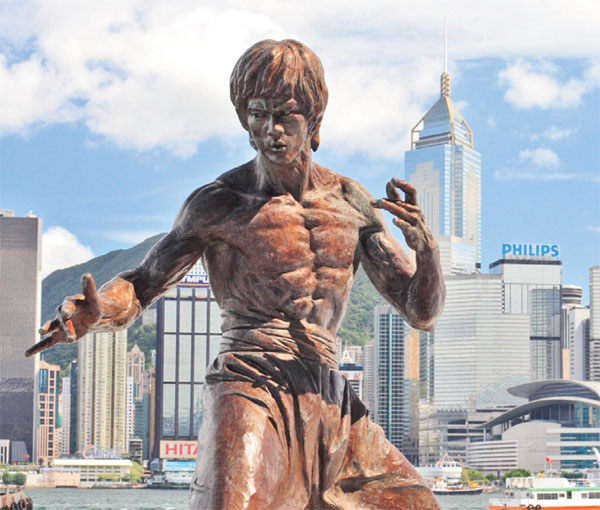 Statue of Bruce Lee on the Avenue of the Stars in Hong Kong. Wikimedia Commons
A Bruce Lee Exhibition has opened in Beijing with a theme of "Be water, my friend" which is also one of the martial-arts legend's most famous quotes.
The exhibition features dozens of Bruce Lee-related artifacts, which include his black martial arts coat, a mask he used in the TV series The Green Hornet, as well as the breakdown for the movie The Game of Death, which Lee wrote.
Turning martial arts into a global phenomenon, Bruce Lee remains a world icon even today, some four decades after his death.
With the exhibition about the immortal film and Kungfu star, Lee's daughter, Shannon Lee, conveys the essential philosophical concept that describes her father's life-force, which is "Empty your mind, be formless, shapeless like water".
The kung fu star's daughter also adds that she never stops connecting to her father's legacy.
"We really want to use my father's message and philosophy to inspire people to be the best version of themselves. He didn't want people to copy others; he wanted people to look inside themselves and understand who they are,and be the best version of themselves."
Shannon Lee is the second child of Bruce Lee and his wife Linda Emery and she was only 4 years old when her father died suddenly in 1973.
Shannon also revealed that two new biopic films about her father are now in production.
The exhibition runs until Sunday at Beijing SKP and all of the exhibits are on loan from the Bruce Lee Foundation in the United States.