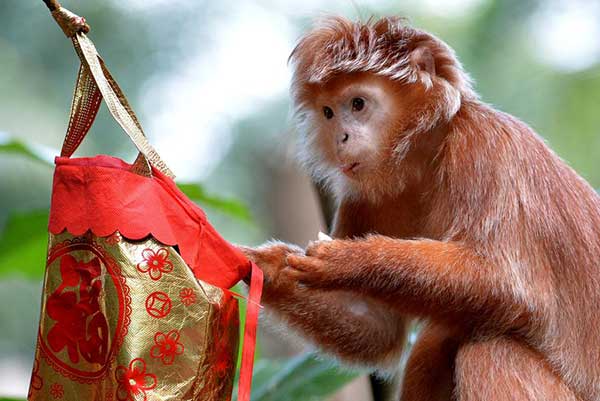 [Photo/Xinhua]
From pop culture to fine arts, from endangered primates to fables and folklores, Singapore Philatelic Museum (SPM) on Friday presented a new exhibition with monkey-themed stamps, philatelic materials and interactive exhibits to welcome the Year of Monkey.
Entitled "More than Monkeys", more than 300 stamps on display, mostly from Asia, Africa, Central and South America, narrate this storyline. Visitors can not only find newly issued Chinese zodiac stamps, but also well-preserved ones issued in the past. The oldest stamp can be dated back to 1947.
One of the highlights is the newly issued Zodiac Monkey stamp by Singapore Post Limited (SingPost) on Jan 8. The stamp set comprises three stamps in various denominations, namely 1st Local, 70 cents and 1.30 Singapore dollars.
Each stamp presents a colorful illustration of the monkey, which is the ninth animal sign in the Chinese zodiac cycle. Designed by Leo Teck Chong, the monkey stamp set is the ninth of 12 sets of stamps in the second zodiac stamp series issued by SingPost which began in 2008.
"I believed he (the designer) has followed certain mode, almost for the previous eight years. The animals are actually in this style... I think he depicted the monkeys very well. They look agile, they look lively," said Chua Mei Lin, curator of SPM.