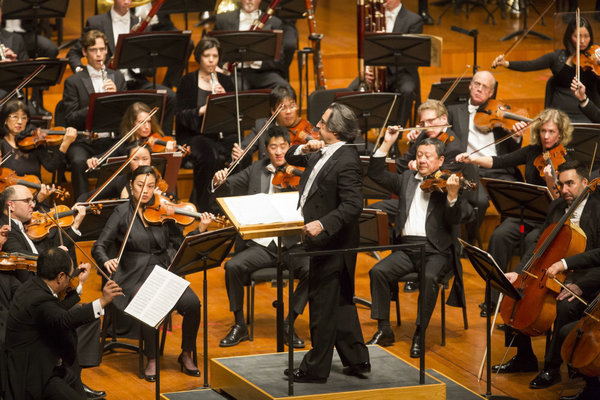 Riccardo Muti conducts the Chicago Symphony Orchestra at a concert in Beijing on Monday.[Photo provided to China Daily]
Riccardo Muti conducted the Chicago Symphony Orchestra to give two concerts in Beijing on Monday and Tuesday. The maestro brought not only great music but deep thoughts of culture, life and more.
For this China tour, Muti prepared programs of a great variety of styles, sounds and tempos.
Monday's program included Beethoven's Symphony No 5 and Mahler's Symphony No 1, two masterpieces of the romantic and post romantic repertoire.
The CSO's conductor emeritus Pierre Boulez was a master of Mahler, so he has made CSO a great Mahler ensemble. What's more CSO's brass section is world famous, which made the fourth movement, the brass-heavy finale a rare treat.
On Tuesday, they performed Prokofiev's Classical Symphony, Hindemith's Concert Music for String and Brass and Tchaikovsky's Symphony No 4 in the second half.
It was interesting to hear Prokofiev's and Hindemith's works in quick succession because of their different styles.
Hindemith's is a massive piece, very strong and difficult. But CSO's brass proved it is king, while the string section also gave a great performance. So, it sounded like a war between the brass and string.
Prokofiev's light Classical Symphony, on the other hand,was a special treat because it is an extremely difficult work for the orchestra so it is very seldom played.
The Naples-born conductor has been music director of CSO since September 2010 and is the 10th in this position in the 125-year-old orchestra, after Georg Solti and Daniel Barenboim.
So what does he bring to CSO?
The maestro says: "I've been a music director with many great opera houses and orchestras. I have the experience. As a person, as an Italian, I have a certain culture that I bring to CSO. With my long experience, Italian culture and the orchestra's 125-year history, we create something new.
"I bring Italian sound. But what is Italian sound? It is a European sound with a special accent on the melodic aspect, with great attention to color. The Italian way is a thinking way, maybe today the Chicago Symphony thinks more than before."
As an Italian conductor, Muti shows concern for Italian operas.
"Many Italian operas are performed in quite a vulgar way. This is a problem," he says.
He says that Mozart, Richard Strauss and Wagner's operas are all performed with much more respect. But many Italian opera singers invent all kind of notes that are not written by the composers, just to impress and please the audience.
"They are not serious and very offensive to Italian culture. Singers show off in operas like Aida, La Traviata and Rigoletto. Many conductors also do things going against what the composer wanted, just to please the public," says Muti, whose teacher was an assistant of Arturo Toscanini (1867-1957), one of the most acclaimed Italian musicians and music director of La Scala, the Metropolitan Opera.
"It will be too arrogant to say that I bring authenticity to Italian operas. Toscanini worked for a long time with Verdi. Verdi always said to singers and conductors, 'Just do exactly what I want. The composer is the only creator of an opera. I don't want singers and conductors to create instead of me.'"
Muti strictly follows what his teacher and Toscanini taught him to do. When he conducted Verdi's three greatest operas-La Traviata, Rigoletto and Il Trovatore-at La Scala, many singers were afraid to sing to the original notes, because they thought the audience would not like it.
The performances were controversial, but many people still like Muti's serious style and his respect of Verdi.
So Muti advises Chinese opera fans "not be fooled by some European opera productions". He says the Chinese may think that the production is from Europe or Italy, so it's the right way.
"No, that's not the truth. It's a great responsibility to perform the opera right for a new audience."