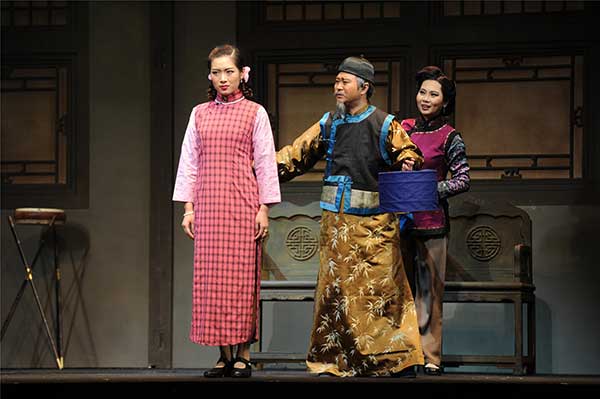 A scene from Fang Zhenzhu, a Quju opera adapted from Lao She's novel of the same name.[Photo provided to China Daily]
While Chinese writer Lao She (1899-1966) is known as an accomplished novelist and playwright, few know about his contribution to Quju, a traditional opera, which is believed to be the only local opera in Beijing.
In 1952, Lao She wrote a play, The Willow Well, and called it Quju, which was based on Beijing's local Quyi opera.
Since the Beijing Quju Opera Troupe was founded in 1959, nearly 10 of his works have been adapted into Quju opera, including Rickshaw Boy, Teahouse and Four Generations under One Roof.
The works are known for their depictions of Beijing culture, especially the use of Beijing slang and the portrayal of ordinary people.
During the upcoming Chinese Lunar New Year, or the Spring Festival, which falls on Feb 8 this year, the troupe will perform two shows in the capital. Fang Zhenzhu and Zheng Hong Qi Xia (Beneath the Red Banner) are both adapted from Lao She's novels of the same name.
Fang Zhenzhu, written in 1950, tells the story of a group of folk artists and their predicament in a turbulent society before and after the founding of New China in 1949.
The troupe first staged the work in the early 1980s. Then, last year, the company staged the work for the first time in more than 30 years.
While keeping to the original storyline, veteran composer Dai Yisheng and director Zhang Shaorong adjusted the singing and acting, and simplified the relationships between the characters.
The lead character is a Beijing folk artist who plays the jingyun dagu (ballad-singing drumbeat performances popular in Beijing).
Beneath the Red Banner, written by Lao She over 1961-62, is the writer's unfinished autobiographical novel.
Lao She, who was born Shu Qingchun in Beijing, was of Manchu descent.