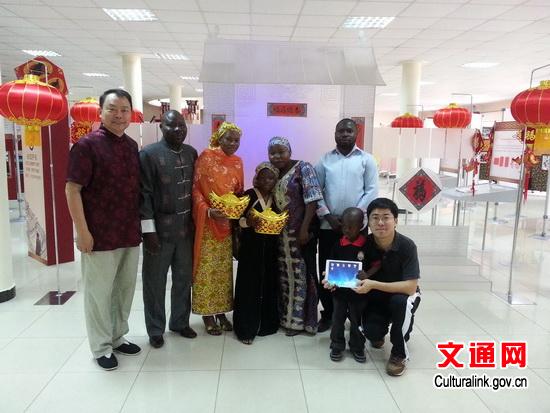 The Happy Chinese New Year activity held in Negeria in 2014. [Photo/Culturalink.gov.cn]
Nigeria's China Cultural Center will stage activities celebrating Chinese New Year between Jan 28 and Feb 12.
Activities will begin on Jan 28 with a performance by a troupe from Qinghai province, featuring the ethnic characteristics of a snowy plateau. Nigerian artists will be invited to join the celebrations with employees of Chinese enterprises.
On Feb 3, Spring Culture Into Campus will be held at the Education Resource Center in Abuja. More than 200 students and teachers from 12 schools will entertain the audience with Chinese song and dance and a short sketch.
During the second Drawing Competition Ambassador Cup to be hosted by the China Cultural Center on Feb 4, winners will be rewarded as well as those who have made great contributions to cultural communication between China and Nigeria.
Jointly organized by the Nigeria Martial Arts Association, the inaugural Martial Arts Competition Ambassador Cup will take place between Feb 5 and 7, during which time more than 300 local martial arts exponents will participate.
From Feb 5 to 12, Chinese Film Week will offer seven feature films reflecting Chinese citizens' lives in different times.