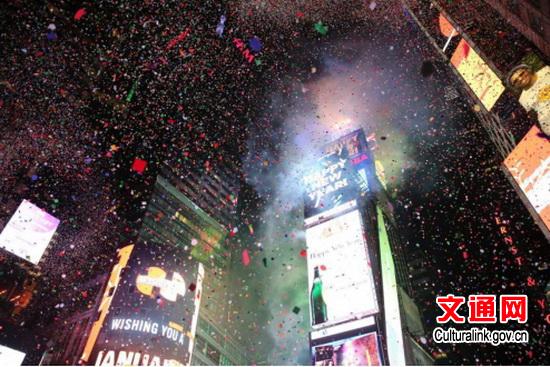 A shot of Times Square New Year's Eve celebration on Dec 31, 2015. [Photo/Culturalink.gov.cn]
Millions of people gathered in Times Square to celebrate the New Year on the night of Dec 31, 2015. Just around the corner from the famous ball drop was China National Tourist Office in New York who also held a special promotion for 2016 China-US Tourism Year. The ceremony was broadcasted live on TV and the Internet.
Cui Tiankai, Chinese ambassador to the United States, Zhang Qiyue, Chinese consul general in New York, Xue Yaping, director of the China National Tourist Office in New York, and hundreds of people from Chinese and American tourism companies, airlines and media attended the ceremony.
A total of 10,000 red scarves, with 2016 China-US Tourism Year printed on them, were given to the people at the ceremony.
Chinese artists from New York put on Red Silk Dance, Dunhuang Fairy Dance based on the frescos of China's Mogao Grottoes, which reflects the cultural integration and communication through the Silk Road and the Torch Festival dance of the ethnic Yi people of China. Jumbotrons scattered around Times Square displayed "Happy New Year" in Chinese and also broadcasted videos for Chinese tourism.
Cui expressed his best wishes to the audiences in Chinese and English. He noted that Chinese President Xi Jinping and US President Obama agreed on 2016 being the China-US Tourism Year in September 2015. And that China has opened her arms and would like to show her grand natural beauty and cultural heritage to the people around the world. Cui also noted that the Tourism Year is an important achievement of Sino-US relations that will give a boost to the communication and cooperation on economy, culture, etc. between the two nations.