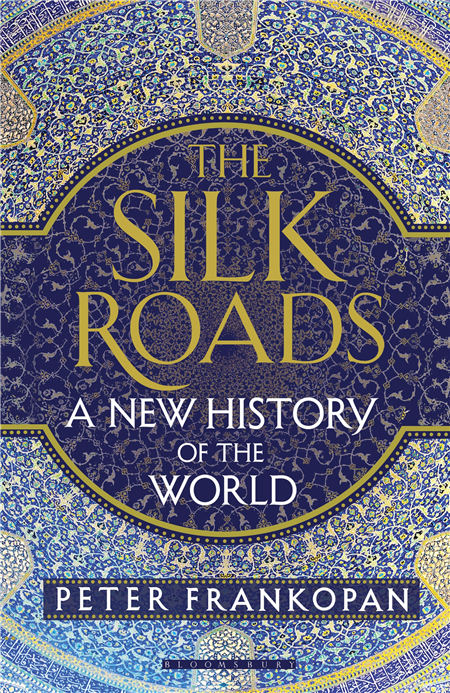 The Silk Roads sheds a lot of new light on major world events.
"I think to many Western eyes and ears, the concept of the Silk Road is almost like a semi-motorway, a single path that links Venice, through Constantinople (modern Istanbul) and central Asia to China. We also only think of it as going from East to West but, of course, the traffic is in both directions," he says.
"It is also not always about goods and traffic going vast distances from China to the West. Much of the exchanges, in fact, are highly local, trading between towns and villages that are near to each other building up to a sort of long chain."
Frankopan, who was educated at top UK public school Eton, won a prize for the highest first-class history degree at Cambridge, before beginning an academic career that has taken in spells at Harvard and Princeton.
Despite being British, he has something of an exotic background in that he is also a Croatian prince.
"In a bygone age that might have meant something," he says. "I am from a very old family that traces itself back to the Dalmatian coast 700 or 800 years. Nowadays, it closes as many doors as it opens."
Nonetheless it led to him becoming president of the Croatian cricket board and playing for the national team.
"A lot of them have been brought up in Australia and they are bloody good," he says of Croatian cricketers.
His interest in the Eastern world was first inspired by his Russian teacher at Eton, who said you could only understand the language by singing peasant songs, and then went on to teach him Arabic.
"We were introduced to Arabic literature and poetry and had discussions about Islam and contemporary Muslim society," he says.
The book, hugely ambitious in its scope, and which takes the reader from the ancient Persian civilizations to the recent wars in Afghanistan and Iraq, has a compelling narrative and is jam-packed with stories. It contains numerous snippets of information that shed new light on major world events.
The huge Buddha statues you now see in the East did not exist before people traveling up the Silk Road saw such statues in ancient Greece.
One of Hitler's prime motives during his Operation Barbarossa offensive, against Russia in 1941, was to secure food supplies from the wheat fields of Ukraine, making Germany less reliant on Atlantic convoys.
We also learn from Saddam Hussein's own surprisingly meticulous records that he thought the US ambassador to Baghdad, April Glaspie, had given him a green light to invade Kuwait in 1990.
"I was aware that it needed to be readable and not self-indulgent with endless footnotes. As a student I used to read books that you couldn't make head nor tail of. It wasn't because the author was very clever but actually a bad writer," he says.
Frankopan says he had been itching to write such a book that gave a different perspective on world history since he was a PhD student 25 years ago.
"Many academics spend years contemplating and don't write anything at all. This is such an ambitious book, I can't quite believe I have written it. If you ask me why I have done it, I don't really have a very good answer."
Contact the writer at andrewmoody@chinadaily.com.cn