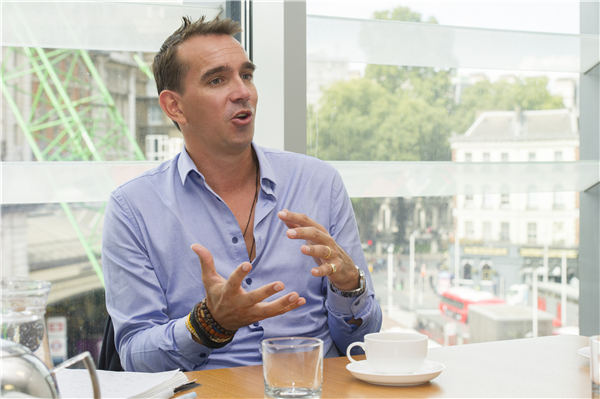 Peter Frankopan talks about his new book The Silk Roads in London. NICK J.B. MOORE/ FOR CHINA DAILY
Oxford scholar Peter Frankopan's new book talks of China's familiarity with globalization since ancient times, Andrew Moody reports.
Peter Frankopan believes we have all been looking at history in the wrong way.
Often only seen from a Western perspective, the accepted story of mankind largely ignores the contribution made by that huge bridge between the West and the East that is now often referred to as the Silk Road.
In his new 636-page book, The Silk Roads, he aims to put that right by showing how the interconnectedness of Europe, the old Ottoman Empire, Central Asia, the Caucasas and all the way to China have for 5,000 years, been the very cradle of civilization.
He argues that history did not begin with the ancient Greeks and Romans, and that European movements such as the Renaissance or the Enlightenment were not actually new but derived from a fusion and exchange of ideas, cultures and religions along what we now see as some old caravan trail.
"We are all brought up in the West being taught this monolithic story which hasn't really changed for 200 years. If you went back to a classroom in 1850 in England you would find much of the same topics being taught. I am not sure what relevance the Battle of Hastings would have to a boy growing up in Shanghai today," Frankopan, director of the Centre for Byzantine Research at Oxford University, says in an interview with China Daily in London.
The 44-year-old historian believes his book's essential theme is globalization, not as a new but very old concept.
"It certainly ain't nothing new. We might think we are living in a new age of exchanges between China and the West but we can go back 2,500 years and find Chinese sources that suggest a world where the exchanges are just as strong."
Franokpan points out the term "silk road" or seidenstrasse, is not as old as what it describes and dates back only to the 19th century when it was used by German geologist Ferdinand von Richthofen, uncle of World War I flying ace, the "Red Baron".
He believes one of its leading modern reincarnations, the Chinese Government's Belt and Road Initiative, accurately sums up what the concept is in reality, myriad maritime and overland links and not one central highway.