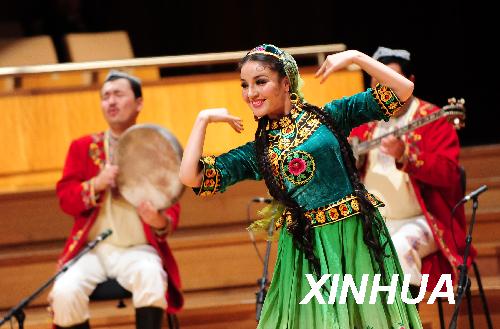 A file photo of a Xinjiang Uygur Muqam performance. [Photo/Xinhua]
The Xinjiang Uygur Muqam is a term referring to a variety of musical practices widespread among Uygur communities, one of the largest ethnic minorities in China.
Born into a musical family, Ablimit Eysa is the 6th generation of the well-established Uygur instruments store in Kashgar. He learned to play Muqam before he learned to talk, and Ablimit says the instrument store which he inherited from his grandfather was a life-time gift. But he says it's harder now to preserve this musical heritage.
Ablimit Eysa Kurbanjan, Eysakhan Uygur Musical Instruments Store said:"Back in the old days when my grandfather was running the store, there was no Internet, TV or computers. So if people wanted music, they had to learn to play it. Today, things are totally different."
Xinjiang's central location on the Silk Road has made it a cultural conduit between East and West throughout its history. Today, the responsibility for passing on the traditional Uygur Muqam to new generations falls almost exclusively on the shoulders of folk artists.
If you take a short walk in the old town of Kashgar, you can find out how important a role Muqam plays for Uygurs. On almost every street corner you can see people dancing with Muqam. This outstanding achievement in musical art enjoys an unchallenged reputation as the soul of Uygur culture.
"Young people nowadays have more choices of music than we did. It's difficult to master Muqam, but if someone wants to learn it we are more than happy to teach them," said Ahmad Yusef, folk artist in Kashgar.
Xinjiang authorities have published a series of audio and video disks and books on Muqam to help preserve and promote the art. Several colleges and universities, including the Xinjiang Arts Institute, have set up Muqam classes. Some even have postgraduate programs on Muqam. Back to the instruments store, Ablimit shares his views on these efforts.
Ablimit Eysa Kurbanjan said:"Thanks to all the work done by local cultural offices that have helped to organize classes and activities for learning and practicing Muqam, we are seeing an upward trend for young people participating in these programs, and artists are exploring new ways of bringing Muqam music to a wider audience as well."
There is an old saying in Xinjiang that goes: Uygurs are born with Muqam and die in Muqam, it is the great heritage and the pride of Uygur people. And for a region whose cultural elements and variations are as rich as Xinjiang, passing them on to future generations is a task for all the people here.