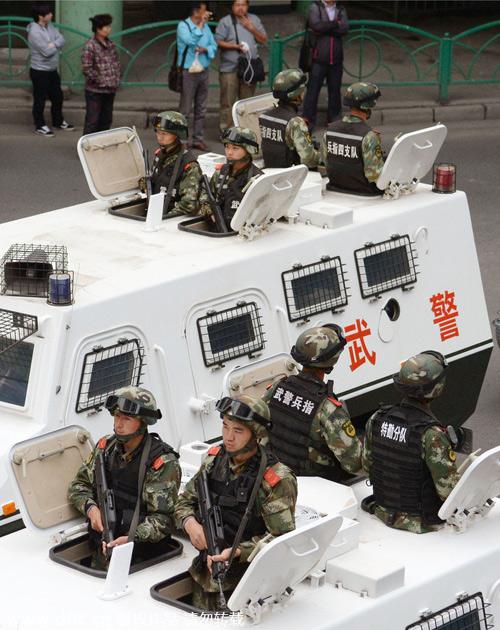 Armored vehicles carrying armed police officers parade in Urumqi in China's northwestern Xinjiang region on May 23, 2014. [Photo/IC] 
In response to frequent terrorist and extremist religious activities in Northwest China's Xinjiang Uygur autonomous region in recent years, the central and regional governments have taken a series of measures aimed at strengthening Xinjiang's stability and development. The move to counter the serious threat that such activities pose to social stability, economic development and people's lives in the region has been welcomed by one and all in Xinjiang.
However, ignoring the enormous achievements of the central government's policies in Xinjiang, some Western observers use double standards to analyze some recent events that have taken place in the region in an attempt to smear China's religious policies and fight against terrorism.
Disregarding some basic facts and accepting hearsays as the truth, they have wantonly criticized China's policies in the region. They say these policies are a failure and even interpret the official campaign to stop illegal sermons and other such activities as anti-religious and allege the anti-terrorism campaign is actually targeted at the Muslim population in the region.
They have also denounced the policy that allows members of Xinjiang's ethnic groups to seek higher studies and jobs in other parts of China as the central government's ethnic assimilation policy, when the fact is, migration across the country has been following economic laws. Such arguments and criticisms are not conducive to solving the existing problems, and make their motives suspect.