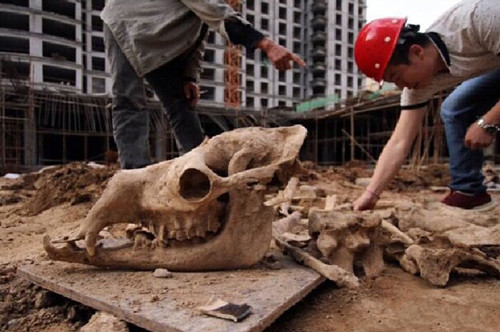 Fossils of several ancient animals are found at a building site in Lanzhou, capital of Gansu province, on Monday afternoon. [Photo/gscn.com.cn]
On Monday afternoon, fossils of several ancient animals were found at a building site in Lanzhou, capital of northwest China's Gansu province.
Yu and Bai, two workers from Yuzhong county of Gansu province, were digging a ditch. When they reached 8 meters deep their shovels touched a gigantic animal cranium and they found several scattered bones and potteries.
Policemen of Jiuzhou Police Station and officials in the culture center arrived at the building site after the local people called the police. About 40 pieces of animal bones were scattered on the ground, and the biggest cranium displayed among them drew the most attention. The empty eye socket is big enough to hold a grown man's fist.
The real identification of the big animal cranium was widely discussed by the workers at the building site.The police took it away and the research was begun.