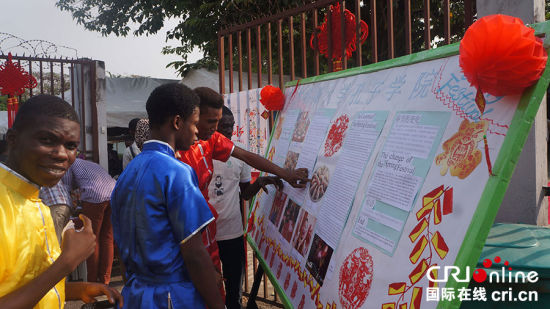 Nigerian students read articles about Chinese Spring Festival.[Photo/cri.cn]
China was set to strengthen its ties with Nigeria by enhancing the cultural relations between the two countries, an official said on Tuesday.
Yan Xiangdong, the Director of Chinese Cultural Center, disclosed this at a news conference to announce the 2015 China-Nigeria Exchange Exhibition of ceramic arts and culture in Abuja, Nigeria's capital city.
The exhibition was significant and built on the occasion of the 10th anniversary of strategic cooperative partnership between the two countries, he told reporters.
According to him, the exhibition would showcase the Chinese art through ceramics, adding that it would also promote cultural ties between both parties.
Yan told reporters that this year marks 44 years of bilateral relations between Nigeria and China.
"In 1990 we signed a Memorandum of Understanding on cultural relations which we renew every four years," he said.
"In order to further deepen bilateral friendship between the two countries, this exhibition takes porcelain as the bond to fully show the artistic charm of Chinese ceramics," he added.
The program was also to celebrate the second year of the establishment of Chinese Cultural Center in Nigeria, he said.
According to him, some of the ceramic works would be auctioned during the exhibition and the proceeds used in the maintenance of the centre.
The 15-day exhibition is expected to start on Sept. 18.
Highlights of the event would include the showcasing of ceramic works by artists of the Jingdezhen Ceramic Institute in China.
The ceramic works include porcelain jars, porcelain plates and sculptures, among others.
Similar exhibitions are expected to hold in southwest cities of Lagos and Ibadan at later dates.