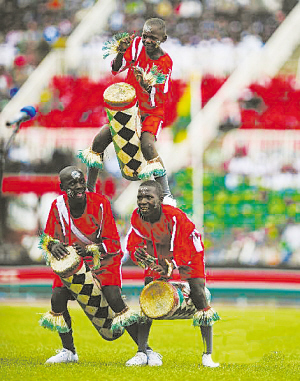 Kenyan young man perform traditional song and dance. [File photo]
The Kenyan government has commenced discussion with Chinese authorities to help showcase the East African nation's cultural heritage in the Asian nation's museums, officials said on Monday.
Mzalendo Kibunjia, Director General of National Museums of Kenya, said that discussions are at an advanced stage to promote cultural products in the Chinese market.
"We began discussions with three Chinese museums in March to explore the possibility of staging an international cultural exhibition and showcase Kenya's rich cultural heritage," said Kibunjia.
He disclosed that discussions with Palace museum in Beijing, provincial museums in Yunnan and Guangdong would pave way for the staging of the international cultural exhibition soon.
"We have developed a concept paper that outlines the modalities of organizing a cultural exhibition in Chinese museums. Our goal is to expose Kenyan cultural symbols in China," Kibunjia said in Nairobi.
He added the government has focused on cultural products to lure Chinese tourists.
"The Chinese people are keen to see our artifacts, heritage sites and way of life. Sino-Kenya cultural cooperation has improved lately as demonstrated by exchange visits and joint training programs," said the official.
He revealed state agencies will compile cultural products from the 42 Kenyan communities to showcase them in Chinese museums.
Kenya has forged strategic partnership with China in diverse fields like education, arts and culture.
Kibunjia noted that Sino-Kenya people to people interaction dates back to the 15th century when sailors from the Ming Dynasty (1368-1644) settled in the Lamu Archipelago.
"We have partnered with the Chinese archeologists to help excavate the remains of a shipwreck that could provide essential clues to our ancient interaction with the middle kingdom," said Mzalendo.
He added that the establishment of Confucius institutes in leading Kenyan universities has fostered cultural diplomacy.
The East African nation has been exploring areas of cooperation for increased partnership between museums in Kenya and China.
The Chinese culture in the East Africa nation is traced back to the Ming Dynasty in the coastal town of Lamu where their inhabitants are suspected to have originated.
This has been proven recently by archaeological work on the island done by experts from Kenya and China that has resulted discovery of evidence suggesting the connection between Chinese and locals.
The recovery of a Chinese ship that sunk in the Indian Ocean over 100 years ago has also commenced and several items have been recovered that forms the basis of the discovery of Chinese ties in the Coast region.