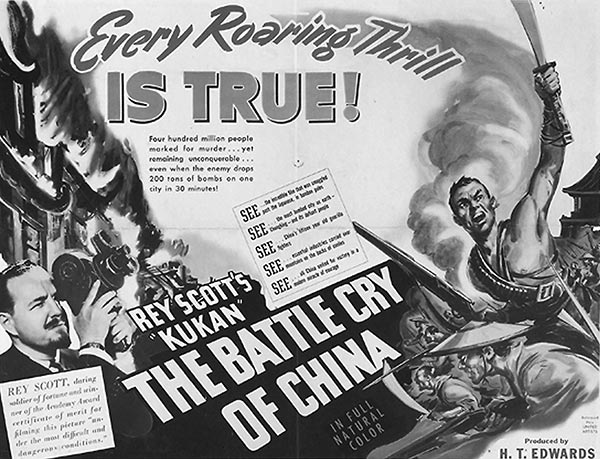 A poster of Kukan, which was awarded an honorary Oscar by the US Academy of Motion Picture Arts and Science in 1942. Photo provided to China Daily
East meets West
In 1937, when Japan invaded China, Li decided she had a mission to bring the plight of Chinese people to the world's attention. She pawned her grandmother's jewelry to fund a movie and hired Scott, a photojournalist from the US midwest, to travel around China and document whatever he saw.
Born in Hawaii on May 19, 1908, Li was the sixth of nine children. She grew up in an unconventional household-in the late 1800s, her parents were among the first Chinese physicians to practice Western medicine in Hawaii-and she lived in China in the early 1930s, according to Lung.
"Ling-Ai was the epitome of East meets West. She was given a classic Western education at the prestigious Punahou School (also US President Barack Obama's alma mater) while learning Chinese language, dance and music from Chinese Imperial Court scholars at Mun Lun," Lung wrote on a website she set up to promote Kukan.
Scott made four hazardous trips to China between 1937 and 1940, traveling extensively-from Shanghai and Nanjing to the southern parts of the provinces of Yunnan and Guangdong, plus the Gobi Desert and Chongqing-and using a 16mm motion picture camera and the most advanced color film to capture ordinary lives and the battle against the Japanese.
"Legend says 300 steps lead up to Chongqing, so I counted them. It's 340 steps," Scott says in the narration, describing how he excitedly rode a horse up the steps of Chaotianmen Pier in Chongqing.
The final 20 minutes of Kukan show a Japanese air raid on the defenseless city on Aug 19 and 20, 1940, and many critics have hailed the segment as the most impressive part of the documentary. Scott recorded the lives of the local people during the two-day barrage, showing how they tried to hide from the bombardment. He also captured footage of the bombed-out downtown from the roof of the US embassy on the other side of the Yangtze River.
Reviewing Kukan in The New York Times on its release, movie critic Bosley Crowther described the closing sequence as "one of the most awesome bits of motion picture yet seen in this day of frightful news events ... somehow this wanton violence appears even more horrible than the scenes we have witnessed of London's destruction".
The Academy Award came in the form of a certificate, rather than a statue. Scott was commended "for his extraordinary achievement in producing Kukan, the film record of China's struggle, including photography with a 16-mm camera under the most difficult and dangerous conditions". Although she was co-producer and sponsor, Li was listed as "technical advisor" in the film's credits.