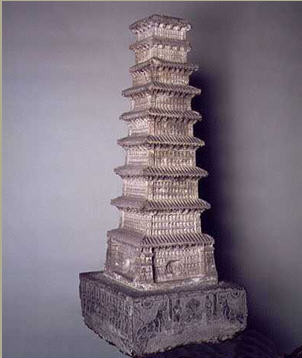 A file photo of the pagoda in Chongfu Temple.
The ornamental part of a pagoda in north China's Shanxi province, which was broken up in the Sino-Japanese war, is to be restored for an exhibition in Taiwan.
The pagoda, originally from Shuozhou city and built in 466 AD during the Northern Wei Dynasty, is the oldest to originate in China. It is 205 centimeters tall, and was commissioned by an official, Cao Tiandu, to honor his deceased father and son.
During World War II, the base and tower of the pagoda were taken to Japan by the invaders, but were returned to the Kuomintang government after the war. The ornament on the top of the tower was preserved by a local person in Shuozhou.
More than 1,400 Buddha images are inscribed on the three parts of the pagoda, which is believed to be extremely valuable for the study of Buddhism in its early stage in China as well as the history of pagoda building.
The base and tower are stored in a museum in Taipei, while the top remains on the Chinese mainland.
Li Fushan, head of the cultural relics management institute of Chongfu Temple in Shuozhou, said he is glad the parts will be reunited. "We have just signed a letter of intent with Taiwan, and are waiting for government approval," he said.