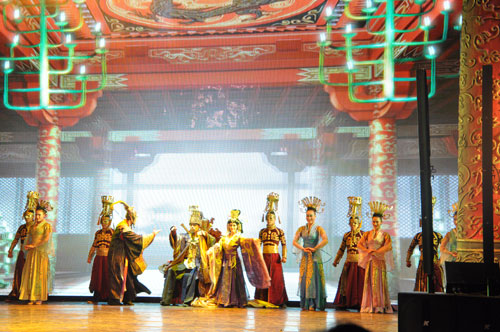 A profile photo of the musical "Terracotta Warrior 3D". [Photo/Chinanews.com]
Chen Jiao plays the emperor's favorite concubine.
"It's different. As a dancer, I've had to mesh with high technology like never before. There's dancing, there's acrobatics, there's martial arts. It makes this mixing somewhat difficult," Chen said.
Breitman plays the emperor's eunuch in the show.
"I've never seen it before, and I'm really excited to see how it works with an audience," Breitman said.
For four weeks, 32 shows, that American audience will don extra-large 3D glasses and take it all in. And try to dodge arrows fired by the Emperor's soldiers that appear to be headed right at them.
"When that happens, I see audiences duck because those arrows are coming to their eyes," Law said,
"(It) gives the audience the notion that you're fully immersed in the story rather than outside looking in."
That is what makes this musical different, Law says, very different.