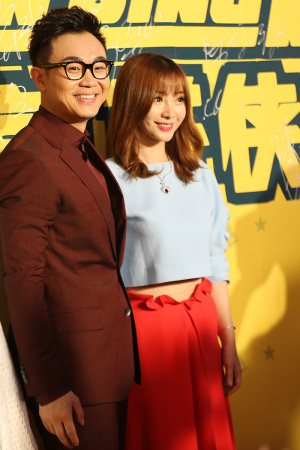 Da Peng (left), director of Jian Bing Man and cast member Liu Yan pose for a photo. [Photo/Agencies]
While domestic filmmakers enjoy the sweet success of the blooming, or somewhat combusting market, Western media have expressed mixed views.
Variety and Indiewire both forecasted a strong market for China's films this year. Hollywood Reporters reviewed Jian Bing Man, which opened in the US on July 24 and profited roughly $400,000 in ticket sales, as a film that attracted record audiences in China "while only sporadically funny" and cited differences in viewer preferences for the film's failure for translating its homegrown success to overseas audiences.
According to Bloomberg, theaters in China "hasn't featured a Marvel superhero or dinosaurs from a revamped franchise or even an American action star" since mid-July.
"Moratoriums on foreign productions regularly clear the release calendar of Western blockbusters so domestic films have unfettered access to audiences. And they ensure Chinese movies make up about 55 percent of the annual box office," reported Bloomberg in an article titled China's film industry is gaining on Hollywood.
Hollywood Reporters said domestic films have benefited from "the clear run at the box office during July because of an unofficial blackout period when big Hollywood films are put on the back burner to give domestic fare a chance to thrive."
Filmmakers in China disagree and attribute the success of China's snowballing market to the purchasing power of audiences and better craftsmanship in filmmaking.
"For many producers, you can't go wrong with catching the interests of domestic audiences," said Chen Zhixi, producer of Jian Bing Man.
Related:
Lost director gracious to new box-office champ