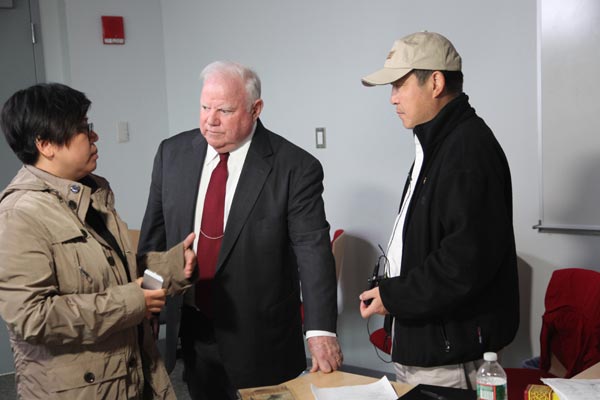 The crew of Mr. Deng Goes to Washington went to the United States to interview many witnesses of Deng Xiaoping's visit including Paul Kelly (middle left), a former White House Secret Service agent. [Photo provided to China Daily]
For the first time, a documentary will reveal footage of two assassination attempts on the late Chinese leader Deng Xiaoping during his landmark 1979 visit to the United States.
The 94-minute documentary, Mr. Deng Goes to Washington, will hit theaters on the Chinese mainland on Friday. It is the first big-screen production chronicling Deng's nine-day visit about one month after China officially established diplomatic relations with the US.
With as much as 40 minutes of the footage purchased from the US at a cost of $250 per second, the film has an ensemble "cast" more famous than the stars of most Hollywood blockbusters.
The film, made last year, includes the then US president Jimmy Carter, then US national security adviser Zbigniew Brzezinski and former US secretary of state Henry Kissinger.
Fu Hongxing, the movie's director, says convincing the politicians to participate in the movie was a tough job as they are all elderly people.
As a veteran filmmaker, the 52-year-old director is famous for a number of documentaries, including Zhou Enlai's Diplomatic Career, based on the former Chinese premier. The film was the highest-grossing Chinese film of 1998.
Carter was 91 years old at the time of shooting, while Kissinger was 92. The crew also had to travel to a hospital in Houston to interview former US president George Herbert Walker Bush, who was 91 and in poor physical condition.
The crew made an appointment to interview James Schlesinger, former US secretary of energy, who boosted the Sino-US Cooperation Agreement on Science and Technology in 1979. But Schlesinger, who agreed to take part in late 2013, died a few days before the crew flew to the US.
"It was an urgent mission to compete with time. Our documentary, in some sense, can be seen as an effort to preserve a dying history," Fu says.
Fu describes the film as being more like a "historical thriller" than a documentary-it features a dramatic storyline, weaving together the tour's obstacles ranging from the weather, pro-Kuomintang adversaries to the "surprising" accidents.
"The political game captured in the film is much more thrilling and dangerous than most fictional espionage titles or action blockbusters," he says.