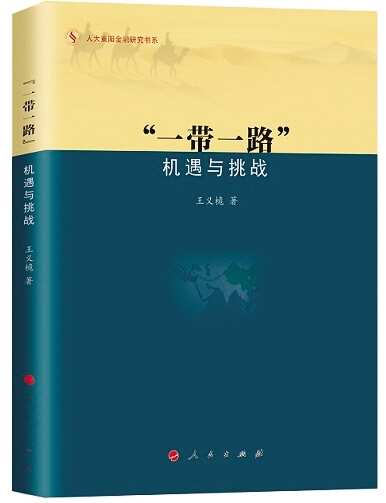 [Photo provided to China Daily]
The first major academic monograph on President Xi Jinping's "One Belt, One Road" initiative, under which China will seek to redevelop the ancient overland and marine routes through which traders sold silk and porcelain abroad hundreds of years ago and built cultural ties, was unveiled on Sunday.
The book takes a look at the roots and the future of the ambitious international cooperation project.
First proposed by Xi in September 2013, the "One Belt, One Road" program is aimed at developing a network of railways, highways and other infrastructure projects, as well as oil and gas pipelines, power grids, Internet networks and aviation routes in the Eurasian area and in Southeast Asia.
The book, titled One Belt, One Road: Opportunities and Challenges, is written by Wang Yiwei, a professor of the School of International Studies and a senior fellow researcher at Chongyang Institute for Financial Studies at Renmin University of China.
In the book, Wang points to four types of opportunities under the initiative. First, the country's opening up in all directions; second, greater diplomacy opportunities with neighboring countries; third, it likely will push regional cooperation to a higher level, boost trade and facilitate cultural exchanges between peoples of the countries associated with the project; fourth, as an open platform, the initiative will bring opportunities for global development.
"The initiative will help more countries get rid of poverty and realize modernization at the same time, especially for landlocked countries without much access to maritime transportation," he says, adding countries such as Kazakhstan and Mongolia will likely benefit from it.
But Wang also notes that among challenges in putting the program into action are risks from the natural environment, geopolitical concerns, as well as economic pressures and potential disputes that could arise among companies and individuals over different local labor, trade and environmental protection laws in the countries involved.
To deal with the challenges and risks, Wang calls for cooperation among think tanks of different countries so that more ideas can be floated to solve problems.
Wang received his doctoral degree in international relations from Fudan University in 2000, and served as a diplomat for China in Brussels from 2008 to 2011.
The book has been published by People's Publishing House, with the first run of 9,000 copies.