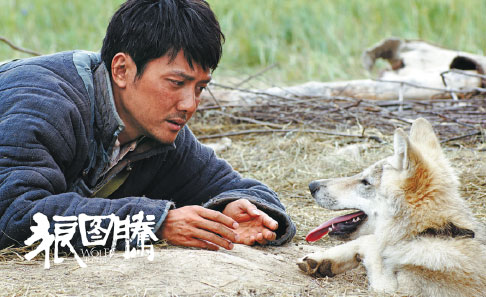 A poster of Wolf Totem with actor Feng Shaofeng.[Photo by Jiang Dong/China Daily]
This year's hesuidang also proved to be the most competitive in China's box-office history.
With Dragon Blade, Chan, a hesuidang draw, was back with his 13th movie release on the mainland. But this year, the 61-year-old star faced off with a number of strong rivals including Chow Yun-fat in The Man From Macau II in 3D, Chen Kun in the fantasy adventure Zhong Kui: Snow Girl and the Dark Crystal that grossed 263 million yuan, Feng Shaofeng in Wolf Totem and Louis Koo in the romance Triumph in the Skies that made 105 million yuan.
Even relatively "weaker" films such as Where Are We Going, Dad 2 and Emperor's Holidays witnessed large audiences.
China, the world's second-largest movie market, grossed a total of 29.6 billion yuan at the box office in 2014, with homegrown films making up 54 percent of the market.
About 1,015 cinemas and 5,397 screens were added to the mainland last year, with most across small- and middle-size cities.
An interesting movie trivia this year is that nearly half of the eight Chinese movies that premiered on Feb 19 had some foreign connection while being made.