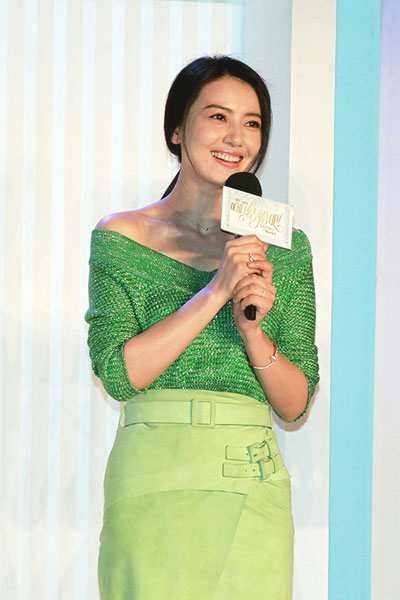 Actress Gao Yuanyuan. [Photo provided to China Daily]
The latest example of such a hit is Fleet of Time, starring the Flowers of War actress Ni Ni and Taiwan pop idol Eddie Peng. It unexpectedly grossed 578 million yuan ($93 million), but was accused by some moviegoers as looking "more like a music video and less like a feature film". The movie was rated 5.4 out of 10 on Douban, a top review website in China.
"When the TV series (Let's Get Married) became very popular in late 2013, many investors encouraged me to turn it into a movie as soon as possible because they said, 'the market is very good,'" director Liu Jiang says.
"But I decided to wait until I had a good script and a good idea of how to tell stories differently."
Liu says as a consequence of waiting, his team has missed some golden box-office windows such as hesui dang, the two months or so that lead up to Spring Festival. But he believes a "sincere production" as such will be liked by audiences.
Still, as Liu is primarily known as a TV director, reporters at a recent news conference questioned his ability to make a full-length feature, especially at a time when many poorly-made movies were looking less appealing than TV productions to audiences.
Liu, who studied cinema in college, says that he understands the distinction between movies and TV projects.
In 2008, he directed his first movie, an urban comedy called Set Off, which won him the best maiden work award at the 16th Beijing College Student Film Festival and a nomination for best film at the 1st Macao International Film Festival.
"Not to mention that every story (in the movie Let's Get Married) can be made into an independent film. As people say, concentration is the essence," he says.