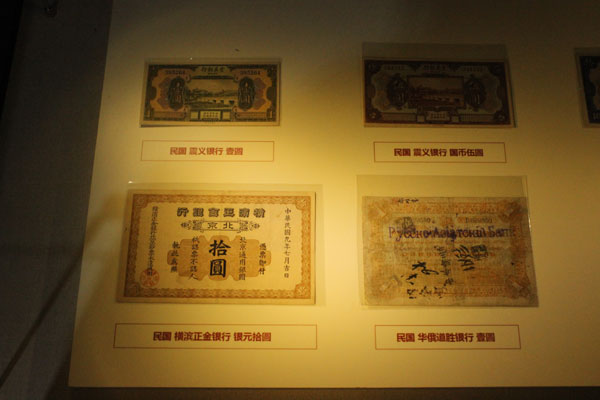 Old bank notes are on display at Beijing Ancient Numismatic Exhibition Hall in Deshengmen Archery Tower in Beijing. [Photo by Wang Kaihai/China Daily]
Beijing's ancient Deshengmen Archery Tower is a good place for a bird's-eye view of the city. In addition, Chinese and foreign visitors can find the tower's exhibition of ancient currency pretty interesting.
The ongoing exhibition, A Glimpse of Glory: 800 Years' Bank Notes in Beijing, was launched by the Beijing Numismatic Society at Beijing Ancient Numismatic Exhibition Hall in the tower on Dec 26.
More than 500 pieces of coins and notes dating back as far as the Yuan Dynasty (1271-1368), when Beijing's position as the national capital began to consolidate, are displayed here. Some ancient retail coupons, symbols of past banks and currency commemorating major events after the founding of New China in 1949 are also among the exhibits.
"The exhibition will give the public a rare chance to have a wide view of the development of bank notes (in China)," says Liu Wenhe, a council member for the Beijing Numismatic Society. He is one of the eight collectors of the ancient money which is on display.
"Some anti-falsification methods in the notes can only be found in Beijing," Liu says of the various types of exhibits that look similar but have their own characteristics.
According to him, privately owned banks flourished in Beijing during the Qing Dynasty (1644-1911), making the city the most significant financial center in China until foreign banks arrived in large numbers in the late 19th century.
The earliest bank-note printing press found in Beijing was made in 1214, though records seem to suggest the city's currency history could date back further, Liu says.
The first volume of a series of books on the 800 years of the currency was also recently released by the Beijing Yanshan Press as a reference for numismatic collectors.
"Compared with ancient coins, bank notes were lesser emphasized among numismatic professionals," says Dai Zhiqiang, one of the country's top numismatic scholars.
"It's difficult to organize a fine exhibition reviewing bank notes from even 20 years ago in China. However, the rising collectables market is now enabling us to organize such exhibitions in detailed categories. Wider public attention will help protect such heritage and improve our academic studies too."
IF YOU GO
Open hours: 9:30 amto 4 pm (closed onMondays). Beijing Ancient Numismatic Exhibition Hall, Deshengmen Archery Tower, 9 Deshengmen Dong Dajie (Avenue), Xicheng district, Beijing. The ongoing exhibition will be through Feb 28.
Entry ticket: 20 yuan ($3.20) per person.
Tel: 010-6201-8073.