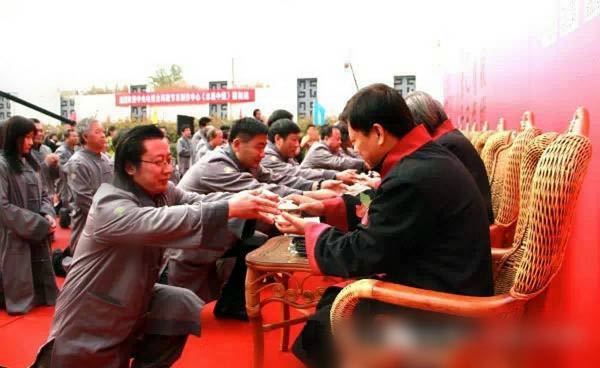 A screen shot shows students offering tea to their teachers on the opening day of Beijing Phoenix Mountain Academy, Oct 28, 2014. [Photo/IC]
A netizen named He Gang commented, "Kneeling is not the essence of traditional Chinese culture, and is a reflection of inequality between people, which should be swept away."
Another nitizen said, "Teachers from the academy are passing on modern civilization to students, while at the same time they are accepting students' kowtow, shouldn't they feel ashamed?"
While some people commented that this should be a good thing which aims to revive traditional etiquette and promote respect for teachers and education. Though the protocols now are not very standardized, it is good start and we should support it.
A student at the academy, surnamed Lin, who was among those who kowtowed, said, "I kneeled down to worship my teacher's personal charisma and show my respect for the tradition. Those people who critised just don't understand the real meaning."
Another student, surnamed Wu, who is Yang Xiaoyang's student, holds the view that teacher is like a father, and that the etiquette helps form commitment and obligation between the two sides.
He said that, "We are not just worshipping our teachers, but more importantly, we are worshipping the long lost traditional culture."
Related: