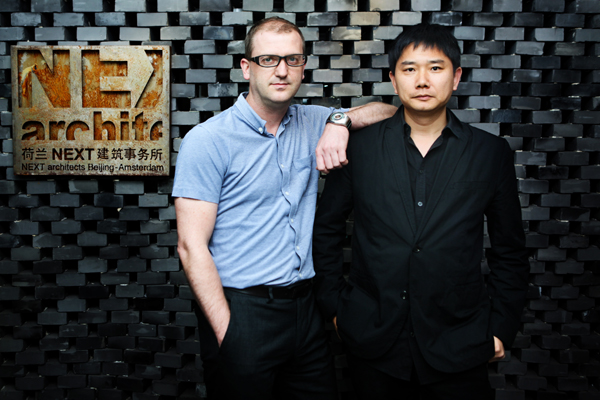 John van de Water and Jiang Xiaofei, co-leaders at NEXT architects Beijing. [Photos Provided to China Daily]
Dutch architect feels complementary influences in his approach.
Dutch architect John van de Water came to Beijing in 2004 with the belief that architects have a responsibility to explain to people and convince them what is good and what is not.
Now having realized more than 1 million square meters of projects in the country, van de Water relates his China experience, insight and reflection in a book entitled You Can't Change China, China Changes You, the Chinese version of which was out last year.
"The first thing you have to accept is that everything is different in China. And if you're not willing to realize this, it's most probably going to be the end of the story for you quickly," says 40-year-old van de Water, leader of NEXT architects Beijing, one of the largest Dutch architecture firms in China.
Acknowledging the unique characteristics of China is only the first step. The real work is to understand them and to translate them into new design concepts, which can take a very long time, he says.
The headline-making Meixi Lake Bridge, which is expected to be finished by the end of this year, is a recent example of how uniquely Chinese features are interpreted in the design process.
The 185-meter long, 22-meter high footbridge, a key project in a new development in Changsha, capital of Hunan province, connects multiple routings on different levels. With its sinuous shape, the bridge attempts to echo with the surrounding landscape.
Inspired by the Mobius ring that has no beginning or end, the bridge also resembles a Chinese knot, an ancient decorative handicraft art, which van de Water calls "the happy accident between Western and Chinese thinking".