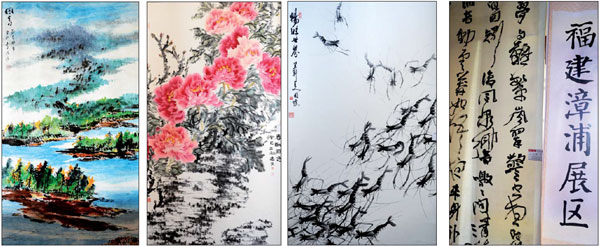 Painting and calligraphy works by artists from both Gushi and the rest of the world are shown during the Gushi Root-Seeking Cultural Festival. [Photo by Xiang Mingchao/China Daily]
Festival builds emotional, cultural and economic ties
In Gushi - the ancestral home of many people in southern China and foreign countries - people believe traditional cultural arts like calligraphy and paintings are an important way to enhance bonds between immigrants and their original hometown.
This year, a display of calligraphy and paintings by locals and enthusiasts from all over the world was an important part of the Gushi Root-Seeking Cultural Festival. The unique event is dedicated to the reunion of people who have ancestral roots in the small county in Henan province.
More than 1,000 tourists, most of whom are descendants of Gushi natives, came to the county for the cultural gala in late September.
Gushi county has seen four large-scale migrations due to wars and natural disasters during the past 1,300 years.
Tens of thousands of migrants moved to China's southern provinces, including Fujian, Guangdong and Taiwan, and some went to the Philippines, Malaysia and other Southeast Asian countries.
Many people with the family names of Lin, Huang, Chen and Zheng in Fujian, Guangdong, Taiwan and Southeast Asia find their origins in Gushi.
Cultural and emotional bonds mean people are keen to find out more about their roots and visit Gushi to worship their ancestors.
More recently the root-seeking festival has also become an important platform to enhance exchanges with politicians and business people from Taiwan.