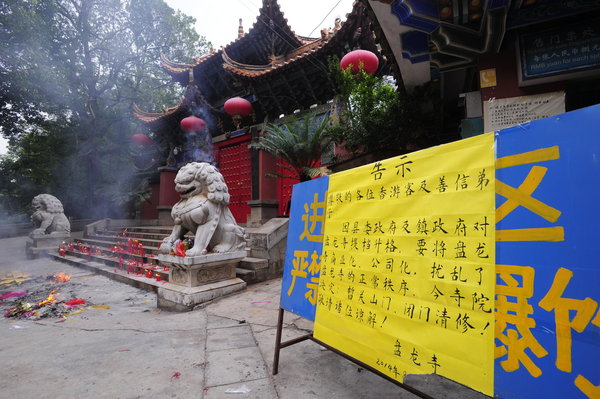 PanlongTemple in Yunnan province closed its doors to tourists.A board placed outside explained why, Aug 15, 2014. [Photo/CFP]
Closing Panlong Temple followed a local government meeting with the temple on Aug 14 about upgrading the Wanghai Pavilion that is part of the temple complex, according to the Chuncheng Evening News, a newspaper in Yunnan province. Local officials proposed establishing a museum and a multimedia room inside the pavilion.
The abbot and the monks of the monastery would not accept the proposal. "We monks can't live a life of commercialization," said Ren Qing, a monk from the temple.
Speculation also went around that the local government intended to raise ticket prices.
Two days after the closing, the local government announced on its official Weibo account on Aug 17 that it would not push forward with its plans.
It said on the announcement that the local government only intended to upgrade the Wanghai Pavilion and build it into a place to show the culture of the Panlong Temple and Yunnan region. It did not propose to commercialize the temple. The misunderstanding was caused due to lack of "sufficient communication".
"After several meetings and enough communication, the misunderstanding has been cleared," the announcement said. The temple reopened at 11:30 am on Aug 17.