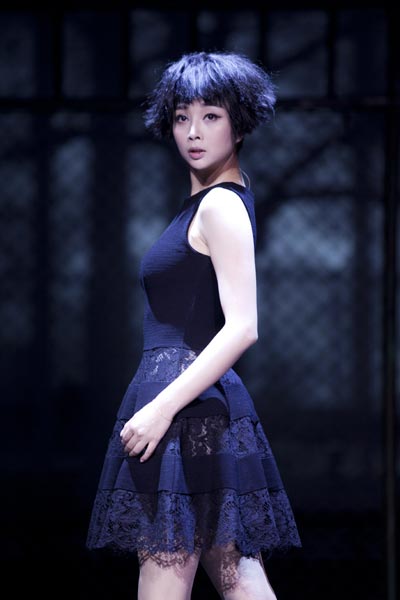 Tian Qinxin's staging of Romeo and Juliet keeps the fire burning between the star-crossed lovers, but preserves only the most important lines from the original text. CHAI MEILIN/CHINA DAILY
Like most members of my generation, I was first exposed to Shakespeare in the late 1970s, when Laurence Olivier's Hamlet was revived on the Chinese screen along with a flood of classics being reintroduced after a decade of absence. Repeated radio airings of the dubbed soundtrack familiarized me with many of the Bard's lines, immortalized by the great Chinese actor Sun Daolin.
In my undergraduate years, my brush with Shakespeare took the form of Charles and Mary Lamb's Tales from Shakespeare, which was on the reading list of my English course, and some of the better known plays in Chinese translation, newly available in the first-ever complete edition in 1978.
However, it wasn't until my post-graduate study (1982-85) at Sun Yat-sen University that I took a serious stab at Shakespeare's work. My professor was Dai Liuling (1913-98), who got his master's degree at the University of Edinburgh. He used an old-school approach and urged me to recite large chunks of the major plays. It didn't matter whether I was able to digest it or not, but it helped when he began to dissect individual words and sentences. Looking back, I'm thankful I received a solid training, even though the richness of the text often dawned on me much later.
Maybe I'm biased, but I believe Dai produced the best translations of Shakespeare's sonnets. In his youthful exhilaration, he would include a self-translated sonnet in his love letters to his future wife, Xu Kaishu. Many high-quality Chinese versions of the sonnets are available, but a special feeling of young love runs through Dai's translations. Unfortunately, most of his manuscripts were lost during the "cultural revolution" (1966-76) and only four are extant. His rendition of "Shall I compare thee to a summer's day?" has been established as an exemplar of perfection in translation.
It was also in those years that I had my first theatrical experience of a Shakespeare play. It was Othello with all the conventional trappings - wigs and padded noses, and actors working too hard at pretending to be characters from a distant land and a bygone era. The house was filled with an air of reverence, punctuated by the actress playing Desdemona when she made a slight movement after the character was "killed" by her jealous husband.
The next live performances I saw were staged in Beijing in 1986, when the first Chinese Shakespeare Festival swung into action. A Midsummer Night's Dream in Chinese and Timon of Athens in English impressed me most. A Midsummer Night's Dream employed a minimalist style, with dozens of ropes as scenery and props. The "mechanicals" spoke in the local dialect. Timon, although a school production, portrayed the title character as a punk rock-style artist, which suddenly resonated with me.
I didn't catch much Shakespeare in the theater while living in the United States, but I did watch a lot of screen adaptations, which opened up a wide vista of interpretation and visualization. For example, I adore with equal relish Franco Zeffirelli's 1968 Romeo and Juliet and Baz Luhrmann's 1996 version, set in Verona Beach instead of Verona.
Last year, a Chinese magazine sent reporters to profile my reading room and personal library. They noted a single-volume Shakespeare on my shelf, a new complete edition, still in the shrink wrapper. I told them that I have many thinner volumes around, which I turn to for either pleasure or intellectual stimulation, but I want to take that big tome with me when I die, I want it to be buried with me so that if there is an afterworld I will have the best thing to read right at hand.