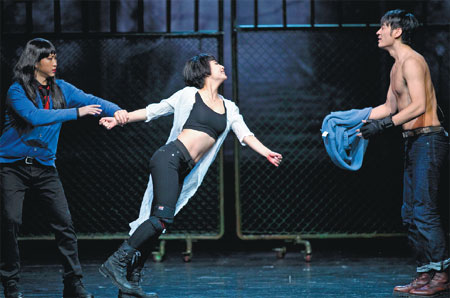 Romeo and Juliet is set in a small city in contemporary China, featuring modern elements, such as bicycles and rock 'n'roll. Provided to China Daily
Director Tian Qinxin will return to the Hong Kong Arts Festival with a tribute to William Shakespeare. Her last offering at the festival was Green Snake, an adaptation of Hong Kong novelist and playwright Lilian Lee's novel of the same name, based on well-known Chinese folklore.
The director is set to present her second interpretation of Romeo and Juliet, following a Korean version she staged in 2013. The latest version will place the famous lovers in a small city in contemporary China. The stage will be set with modern elements, such as smog, bicycles and rock 'n' roll, but the play will stick to its roots by exploring a question the director frequently asks herself-how can love be seen as more valuable than life itself?
Tian says she has never been able to even "touch the edge of love", but it remains a recurring subject in her dramatic forays. In Red Rose, White Rose, based on Eileen Chang's novel of the same name, love is a choice, an experiment, an unfixed definition varying with a man's perception of his relationships with different women. In Green Snake, love is fundamentally lust that's frequently challenged by doubt and seduction. Both delve into the complexity, but are hardly positive interpretations of the subject.
In modern Chinese dramas, Tian finds the subject of love is often entangled with the obstacles it faces, such as money, disloyalty and conspiracy. None of these depictions of love is as pure, positive and powerful as that in Romeo and Juliet, she says, though she still doesn't understand why the story needs a final death to come full circle.
"We don't have that much positive talk of love. That's why we have so many cases of domestic violence," Tian says. "I didn't believe in love. When I wrote the play and during the rehearsal, I saw one precious thing, that Shakespearean time held to its core values, the purity of love."