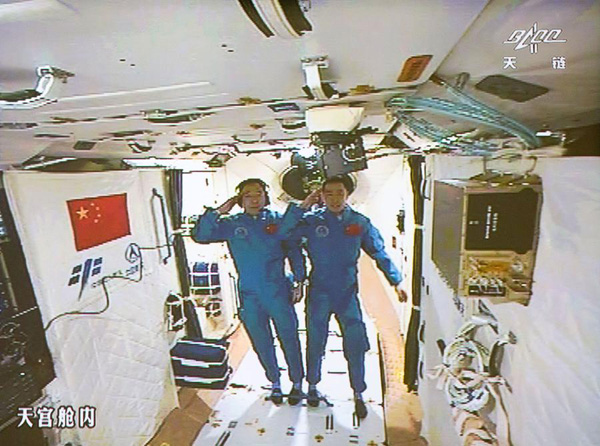 Jing Haipeng (left) and Chen Dong are in the Tiangong-2 space lab on Oct 19, 2016. [Photo/Xinhua] 
BEIJING -- Two astronauts of the Shenzhou-11 spaceflight mission were awarded medals for their service to China's space endeavors.
Jing Haipeng, 50, commander of the Shenzhou-11 spacecraft, was honored with a first-class aerospace achievement medal, and Chen Dong, 38, was conferred a third-class medal and the honorary title "heroic astronaut."
Launched on Oct 17, Shenzhou-11 docked two days later with China's first space lab, Tiangong-2, where the two astronauts lived for 30 days, the longest time Chinese astronauts have spent in space.
It was the third space mission for Jing, who also participated in the Shenzhou-7 and Shenzhou-9 missions. It was Chen's first space mission.
The Shenzhou-11 mission is part of China's ambitious plan to build a permanent manned space station.