Court applies criminal law to data fraud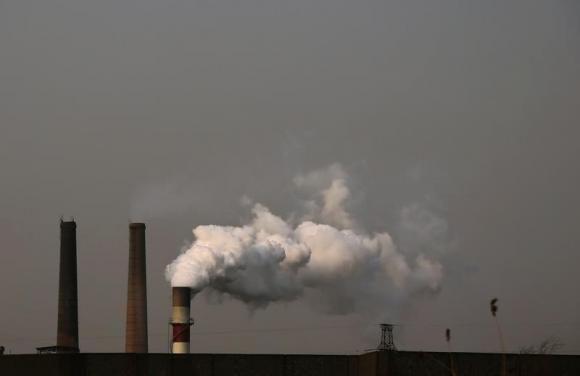 Smoke rises from a chimneys of a steel mill on a hazy day in Fengnan district of Tangshan, Hebei province February 18, 2014. [Photo/Agencies]
Punishment no longer only administrative, according to new judicial interpretations
Falsifying environmental data to avoid pollution regulations is a criminal offense, according to a set of new judicial interpretations on environmental crimes formed by the top court and top procuratorate and released on Monday.
It is the first time that such actions will be punished as crimes. Previously, administrative penalties were usually meted out.
The court and the procuratorate issued interpretations on a number of environmental offenses. The new interpretations, to take effect on Jan 1, are widely considered an indication that judicial punishment of environment-related crimes will be strengthened.
The judicial interpretations specify crimes that Chinese Criminal Law applies to.
The change could affect company workers, environmental protection workers and any third party entrusted with monitoring environmental data. Those who tamper with or fabricate monitoring data or interfere with the operation of monitoring equipment may be criminally prosecuted for seriously contaminating the environment and resources.
Violators would face imprisonment of three to seven years with fines if their cases have particularly severe consequences.
"It's the first time that falsifying monitoring data is considered a crime, which could lead to more effective deterrence and punishment of such violations," Yan Maokun, director of the research department of the Supreme People's Court, said on Monday.
Air pollution has become a hot issue since many cities have been hit frequently by severe smog, with pollution levels off the charts at times, especially during the winter.
"But it's hard to gather evidence since polluted air moves quickly, so the new interpretations have listed stipulations to make the rules more usable," Yan said.
If polluters are caught falsifying monitoring data, courts can rule that they had committed the crime of contaminating the environment, independent of the actual amount of pollutants discharged.
Also, if companies saved over 1 million yuan ($144,000) by turning off pollution reduction equipment, they could be defined as having committed environmental pollution crimes as well.
"The new rules could solve problems with the criteria for sentencing," Yan said.
Falsifying data has become an acute problem. In March, equipment in an air quality monitoring station in Xi'an, Shaanxi province, was found covered with cotton yarn to filter the air and lower the pollution reading to avoid punitive action. Five environmental officials were found to have been involved and were detained.
"The revised Environmental Protection Law (effective on Jan 1, 2015) allows us to give managers administrative detention if they falsify data, but the new interpretations can do more to deter polluters," said Bie Tao, policies department head at the Ministry of Environmental Protection.
Courts nationwide handled 4,636 cases dealing with pollution, illegal treatment of solid waste and misbehavior by environmental officials between July 2013 and October 2016.
It is a big increase from the average of 20 cases a year before that, and speaks to a tougher attitude toward polluters, the top court said.
The new interpretations also clarify punishments in cases involving treatment of hazardous waste and environmental impact assessments.
Contact the writers at zhengjinran@chinadaily.com.cn