Club at landmark closes after sex sting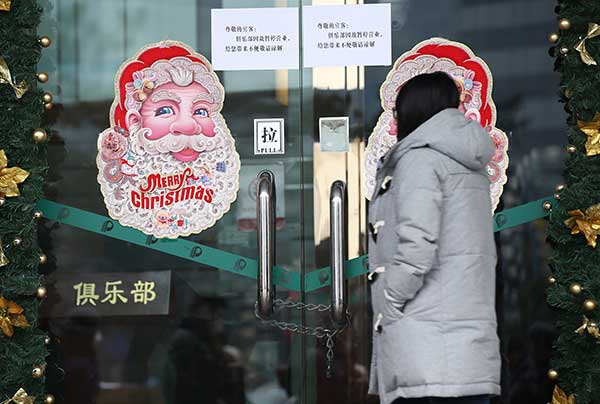 A notice at the entrance of Baoli Club in Beijing's Chaoyang district says it has suspended business. Liu Chang / For China Daily
Beijing police detained more than 100 people suspected of being involved in prostitution after raids at three nightclubs, part of a campaign to step up security over the festive season.
The city's public security bureau released a statement on Sunday naming the clubs, which attracted wide attention as one is located in Poly Plaza, a landmark building in Chaoyang district owned by a State-run conglomerate.
More than 400 police officers and auxiliary personnel took part in the weekend campaign, which also included visits to shopping malls and central business areas. The nightclub arrests were made on Friday night.
China Poly Group Co said in a statement on Monday that Baoli Club, which uses the same Chinese characters as the Poly brand, had infringed on its trademark and was not authorized to use the name.

The conglomerate was irrelevant to all consequences and liabilities caused by any entity that illegally bears its trademark, the statement said.
A job advertisement on the club's website for hostesses says it is looking for women aged 16 to 28 and offers a daily salary of 1,000 to 1,500 yuan ($140 to $215).
Baoli Club and the other two clubs, Landai Club and Lihaimingyuan, both in Haidian district, were ordered to close, police said.
The incident is the latest high-profile case involving prostitution.
In May last year, two people were sentenced to life in prison for running a gambling and prostitution ring at Royal No 1 Nightclub in Zhengzhou, capital of Henan province. Another 85 people were also jailed.
More than 2,900 women had provided sexual services before the club was raided and ordered to close in November 2013.
A total of 152 police officers were also punished for covering up the ring and more than 8 million yuan in bribes was seized.