General public have their say on government
BEIJING — From this Tuesday, Gov.cn, in cooperation with 21 online media outlets, is seeking suggestions on how to make the government work more efficient.
It is the third year that Gov.cn, an online platform of the State Council of the People's Republic of China, has invited the general public to give their advice on the government work report.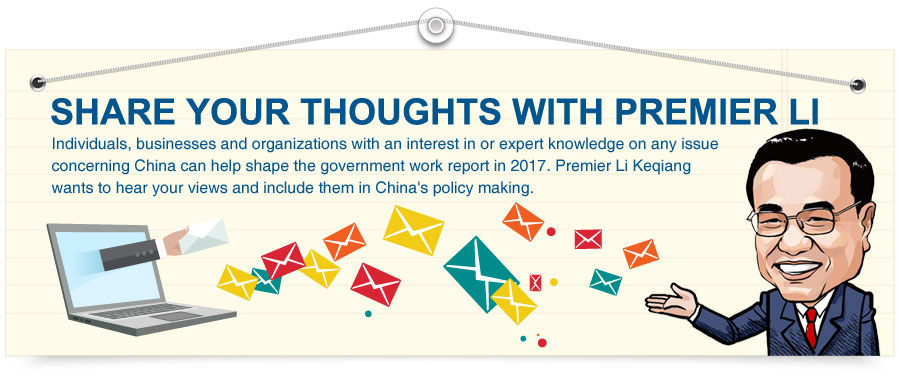 Suggestions will be collected on 15 different topics, including streamlining administrative procedures, pensions and medical services. Useful opinions and suggestions will be sent to the leaders of the State Council and the drafting team putting together the government work report.
After running a similar exercise, some content in the Report on the Work of the Government in 2016 strongly reflected netizens' suggestions.
Chinese Premier Li Keqiang also took the opportunity to answer questions raised by netizens about building a nationwide network for basic medical insurance at a press conference at the conclusion of this year's annual parliamentary session.



Relevant government departments also responded to suggestions submitted by netizens to the Premier, including the Ministry of Education, the Ministry of Human Resources and Social Security, and the State Administration of Taxation.
Other online media involved include People.com.cn, Xinhuanet.com, CCTV.com, Chinadaily.com.cn, Gmw.com, QQ.com, 163.com, Sohu.com, ifeng.com, Toutiao.com, Yidianzixun.com, Sina Weibo and WeChat.
Several Chinese and English websites of ministries and local governments are also taking part in this activity.
This activity will last until the end of next year's "Two Sessions".
Scan the QR code or click here to give suggestions!