For millennia upon millennia the middle kingdom has produced some of the most revealing and thought-provoking literature on romance and classics.
Having grown up in London, I've always felt rather privileged in being surrounded by the great wealth of literature heroes such as Shakespeare, Wordsworth and Oscar Wilde. It wasn't really until my latter years when I first arrived in China, that I began to appreciate and understand the sheer genius of ancient Chinese literature - with a particular emphasis on Li Bai and Qin Guan of the Tang and Song dynasties, where my true China experience begins...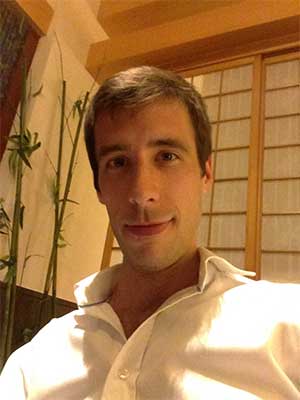 Scott Winnen
Stepping hot off the plane in 2013 on Valentine's Day, I arrived at Pudong airport where I was instantly flabbergasted by the size and depth of the infrastructure that Shanghai boasted. From what I recall of the experience, the driver whizzed me right into the beating heart of Shanghai's trophy piece: the Bund, where I met my first Chinese valentines. I was thinking en-route, what piece of poetry should be my opening line? A Wordsworth, Blake or a Fitzgerald...Of course I stuck with tradition and went with the two famous lines: "A cheerful life is what the Muses love. A soaring spirit is their prime delight", to which rather comically she gave me a reassuring nod and we began to order.
From that day on, I was officially China centric, taken in by the wonderful sights and fascinated by the mysterious beauties that this part of the world has to offer.
In my typical academic idiosyncrasies I began visiting old libraries, small towns and different regions, stepping back in time and learning about the history of this country's famous writers and poets and developing a detailed appreciation of the Chinese culture.
For the avid reader, China has two official Valentine's days: Feb 14 and Qixi festival, which is celebrated on the seventh day of the seventh month of the lunar calendar – therefore this year it falls on August 9 (2016), so make a note my good friends.
In recent years the Feb 14 has certainly become more popular in China's grand metropolises for celebrating love and romance. Whereby traditionally, Chinese couples would visit the matchmaker temple and pray for their longlasting love and future marriage on Qixi festival, our day, which supposedly has its origins from Lupercalia, involves simply buying chocolate and roses in a display of affection for our current partner.
Qíngrénjié (literally meaning lovers' day) for me this year will be a very auspicious one. Over my many years in China I've been fortunate enough to travel from the Northern regions to the Southern and Eastern front and along the way I've had the pleasure to meet a myriad of people from villages in Sichuan to hutong's in Beijing. One very special person in my life here, whom was recently struck by Cupid's arrow, originates from Shandong province – home of the great philosopher Confucius. What I continuously find fascinating about relationships in China, is the willingness of the men to compromise and put their partners happiness first, unlike in the West where we see the macho and alpha male styled approach, here it is much more refined and romantic.
So this year folks, I will imbue you with a great piece of work by the aforementioned poet Qin Guan for your loved ones: Among the beautiful clouds, Over the heavenly river, Crosses the weaving maiden. A night of rendezvous, Across the autumn sky, Surpasses joy on earth. Moments of tender love and dream, So sad to leave the magpie bridge. Eternal love between us two, Shall withstand the time apart. Any man or woman in love this year and who wishes to add a touch of famous Chinese culture to their loved one is welcome to share these great words. In a country so vast, distance occasionally separates us, but in the long run we are united by one common feeling. For those readers who are well accustomed to the Chinese language:
xiān yún nòng qiǎo, fēi xīng chuán hèn, yín hàn tiáo tiáo àn dù.
jīn fēng yù lù yī xiāng féng, biàn shèng què rén jiān wú shù.
róu qíng sì shuǐ, jiā qī rú mèng, rěn gù què qiáo guī lù.
liǎng qíng ruòshì jiǔ cháng shí, yòu qǐ zài zhāo zhāo mù mù
Happy studying folks and good luck for the year of love!
Scott Winnen is a financier in Shanghai and has also worked as an international journalist for several major publication houses.