Li: High-quality imports needed to address the trade imbalance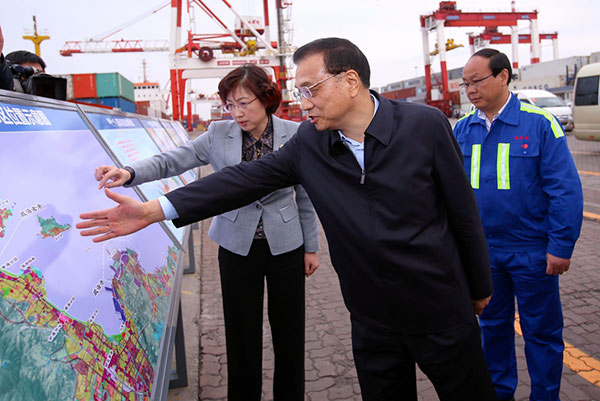 Li Keqiang visited Weihai, a port city in Shandong province on  April 19, 2017.[Photo/china.com.cn]
Premier Li Keqiang called on Wednesday for greater balance in foreign trade not only through promoting exports but also importing more high-quality goods. Li spoke at the start of his two-day visit to Weihai, a port city in Shandong province.
"As a major trading country in goods, China wants a balanced foreign trade instead of intentionally pursuing a trade surplus," he said at the Port of Weihai.
Li said the country must expand exports as well as imports of high-tech products and other high-quality goods that give consumers more choices and stimulate domestic companies to produce better products and services.
The call is in line with the premier's vow to push improved quality and efficiency by deepening reform and expanding opening-up, which he made during a panel discussion with National People's Congress deputies from Shandong on March 6.
Last year, international demand shrank amid the sluggish world economic recovery. But things are improving, as shown by the Chinese economy stabilizing and having achieved 6.9 percent in GDP growth in the first quarter. The year's first three months saw trade in goods increase by 21.8 percent to 6.2 trillion yuan ($899 billion) year-on-year, according to figures released by the General Administration of Customs last week.
Local officials reported to Li that Weihai's exports in the first quarter far exceeded imports.
According to the province's customs officials, Shandong's imports and exports exceeded 419 billion yuan last year, an increase of 28.9 percent year-on-year, which was also the highest among the nation's coastal provinces.
Weihai, in northeast Shandong, has been significant in trade with South Korea, Japan, the United States and other foreign markets. In the first quarter, the city's exports of food and agricultural goods grew quickly. Exports of vegetables and related products increased by 37.8 percent during the first three months, compared with the same period in 2016.
Additional opening-up has quickened the pace of development in eastern China and kept ports busy, Li said.
The Port of Weihai, which handles exports of goods made in coastal areas, should use its geographic advantages to unleash its potential to serve not only eastern areas but to extend its services to central and western parts of the country, he added.
Li also visited Sunjiatong Hospital; the Dishang Group, a clothing manufacturer; and the local market regulatory office.