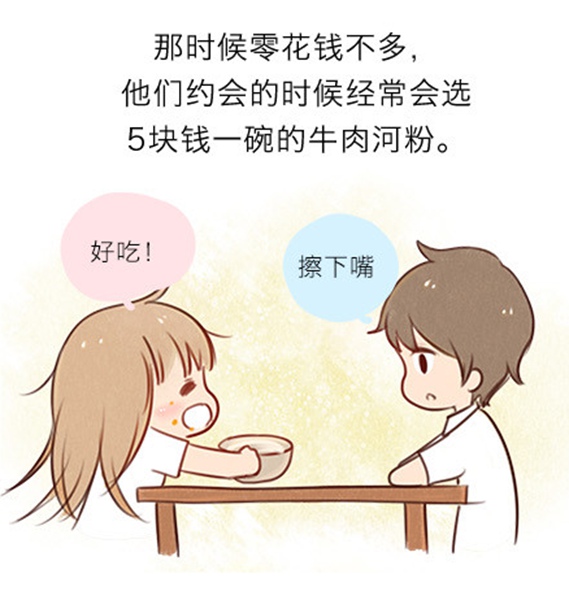 A sketch drawn by Chen Anni from her comic series, Anni and Wang Xiaoming, a school love story. The subtitles read:"At that time, they did not have much pocket money. They usually eat fried rice noodles worth 5 yuan ($0.8) when dating." The heroine says: "Yummy." He replies: "Wipe your mouth." [Photo/Sina Weibo]
"I started up my career on the Internet," Chen said in a self-assuring tone.
Most of Chen's readers are teenage girls and young women between 12 and 20 years old, a generation that has grown up with the emerging and developing Internet in China. The Internet has become one of their most important channels for recreation.
"She has a good feeling towards new media and the readers," said Luo Zebo, a co-worker and classmate of Chen.
Besides publishing comic stories, Chen showcased a more live and complicated drama by turning her friends circle, now her company, into a source of gossip.
From photo streams of gatherings occurring on campus or in her company, to a photo display of her good-looking friends or staff, these daily details form a reality show to satisfy the imagination of her fans, a creative way to boost social media users' activity.
And this effect is further intensified when several friends and employees themselves are popular bloggers who have hundreds of thousands of followers.
Chen uses the Internet wisely and more.