Editor's Note: A start-up frenzy has gripped China since Premier Li Keqiang encouraged people to innovate and start their own businesses last March. The country's "post-90s generation" of entrepreneurs — a term describing those born in the 1990s — has come of age. They are bold digital natives brought up in the founding era of Internet giants like Tencent and Alibaba, and unafraid of failure. Products of the Internet, and rapid economic growth and globalization, these young entrepreneurs have their own stories to tell.


"Our programmer became an instant hit on Weibo yesterday. His fans increased by 5,000 overnight. Look, there are more than 1,000 comments," said Chen Anni, founder of mobile app Kuai Kan Man Hua (Read Comics), the moment she sat on a chair in a meeting room at her company in Beijing.
The sudden growth of followers is simply because Chen put her staff's photo on one of her Sina Weibo accounts (China's version of Twitter), which in total have nearly 10 million fans, an amazing number for a post-90s blogger who started from an ordinary comics artist and publisher.
In the last four years, Chen, 22, became a recognized comics artist, a comics company founder and an owner of the most popular comics mobile app in China. It's an experience that she deemed achieving " with a low probability of 1 percent".
The miracles, seemingly pennies from the heaven, were achieved reasonably. One of the means is that she has successfully utilized the power of the Internet to attract numerous online fans.
"The increase of followers stood very slow at the very start. Then it sped up by hundreds or thousands. The number reached 200,000 in the first year (2013), 3 million in the second year, and 9 million in the third year," Chen said as she leisurely tapped her fingers on a table in front of her.
She began to draw comics and put them on Weibo in her spare time on campus starting in late 2011. The comics depicting an undergraduate's daily life and love story resonated with many people about their own time at school and they became her followers.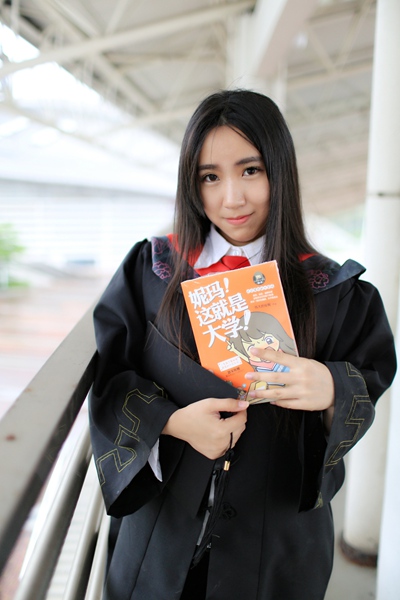 Chen Anni on campus in May 2014. [Photo/Provided to chinadaily.com.cn]