A post office named after the Yangtze River, China's longest, has attracted tourists since it opened in September.
Yangtze No 1 Post Office, located in the plateau township of Tanggula, Golmud city, in northwest China's Qinghai province, is the first one named after the river.
Since last month, a growing number of visitors to the plateau have stopped at the post office, which is located at the headquarters of the environmental protection NGO Green River.
"Workers and volunteers have delivered packages and letters for herders, soldiers and workers near Tanggula, while spreading the word on environmental protection," said Yang Xin, president of Green River.
Yang said 11 post offices are planned in the 11 provinces, municipalities and autonomous regions along the Yangtze.
The office is built from energy-saving materials and powered by solar energy. Tourists can stop by, send post cards, buy souvenirs and share environmental-protection stories with workers and volunteers.
The Yangtze basin covers 1.8 million square kilometers. The river links major cities including Shanghai, Nanjing, Wuhan and Chongqing.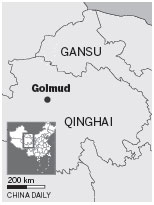 (China Daily 10/13/2016 page5)